Don't call it a sequel.
1. Natalie Lowe has won the annual Pro Poll to determine the show's greatest ever pro three times
2. Natalie Lowe has won the Monkie for Best Female Pro of the year three times
3. Above all other pros Natalie Lowe is basically this blog's spirit animal and that animal is a kangaroo on armodafinil.
4. At the time of her retirement, Natalie Lowe was the longest serving female pro, and other than Ola and Erin was the longest serving female pro ever and now our female pro with seniority is Karen Clifton and no offence to Karen Clifton but that is frankly depressing.
5. Natalie Lowe, unlike previous retirees, decided to make it VERY clear (REPEATEDLY very clear) in her statement that the show wanted her back and she declined immensely.
6. Natalie Lowe's first words on the show were pretty much asking if anyone had ever got a 10 in Week 1 before because she was convinced that her partner, Ricky Nipple, was going to do it. This sparked outrage and a general public hatred of Natalie that lasted for about three series because the British hate ambition in women above all things.
7. Natalie Lowe would have said the same thing if her first partner had been Audley Harrison.
8. Or Tim Wonnacott.
9. Or anyone, Natalie Lowe would have been stumping for 10s week one if she'd been partnered with Paul Daniels and Richard Dunwoody stacked on top of one another in a giant raincoat.
10. Ricky Nipple now, as the lead actor in a major prestige US television drama and ALSO in one of the better celebrity wank tapes (apparently), is set to almost certainly be the celebrity to have the biggest career post Strictly, therefore Natalie Lowe is a bigger star maker than Simon Cowell to be honest.
11.

12. Natalie Lowe once swung a prop axe at Craig's face whilst sat in a wheelbarrow.
13. Natalie Lowe once ran round the studio screeching "WHAT BORING PEOPLE!" because Craig didn't like a paso doble she choreographed.
14. Natalie Lowe once burst into tears and practically threatened to theatrically commit hari-kiri off of Claud 9 because Craig thought her spooky ghost themed rumba to Evanescence didn't have enough rumba in it.
15. Natalie and Craig basically had one of the more entertaining judge-pro relationships over the years.
16. If you didn't want to brave the Digital Spy spoiler thread on a Saturday Night, Natalie Lowe would usually accidentally tweet a spoiler every night she was still in the competition, and it would stay up on twitter for a good 5 minutes before a publicist got round to telling her take it down.
17. Natalie Lowe once almost murdered John Torode and Gregg Wallace with chilli.
18. Natalie Lowe once almost murdered John Torode and Gregg Wallace with garlic.
19. Natalie Lowe once almost murdered John Torode and Gregg Wallace by burning the Celebrity Masterchef kitchen down
20. Natalie Lowe made four finals of Dancing With The Stars : Australia in a row AND managed to actually win one of them take THAT KEVIN CLIFTON.
21. The guy Natalie Lowe won Dancing With The Stars : Australia with is not uncomely and I would not have objected to him coming and sitting in the audience to support her but now THAT WILL NEVER HAPPEN THANKS A LOT STRICTLY.
22. He was also one of the Australian Gladiators, which is a demo of celeb Strictly could really do with, please immediately cast Jet, Lightning, or Hunter.
23. On Strictly on the other hand, Natalie could only get anywhere near a win when they partnered her with a handsome one-legged army veteran RINGAH and had him compete against a bunch of middle-aged women with MS. What a DOOMED GODDESSA.
24. Actually they also invented a Strictly Come Dine With Me competition for It Takes Two specifically so she could win something even if the "something" is the honour of being deemed officially better at booking than Ola Jordan
25. Natalie Lowe once spat out a mince pie on a Christmas Special. (Mince pies are disgusting this is correct)
26. Natalie Lowe once closed a dance by flashing the audience and screaming "MAW BOOBS!" as she shovelled them back into her top.
27. Natalie Lowe once yelled "FUCK!" live on air because Greg Rutherford's first dance went so well and then spent the next five minutes wondering why she did it.
28. Natalie Lowe runs a fitness club with Ian Waite and Mark Foster and that's a sitcom I'd watch. It's be like Vicious but with much worse acting and much better jokes.
29. THE WINK!
30. Seriously


31. Always


32. The


33. Wink


34. Natalie Lowe is a wonderful ballroom dancer.
35. Natalie Lowe is a slightly less wonderful latin dancer, but still wonderful, and her pumping jive action scares the bejesus out of me.
36.

37. Natalie's married name is Natalie Knibbs.
38. Natalie Lowe had extensive tabloid romance rumours with Ricky Nipple, Audley Harrison, Robbie Savage AND Greg Rutherford but nobody remembers them now at all because Natalie is a SEX NINJA.
39. She was also officially the first pro ever to be rumoured to be copping off with her celebrity partner's other half what a gender-busting queer pioneer.
40. Natalie Lowe did some great dances with her celebrities, I am going to now expound on some of my favourites, in chronological order
41. Ricky Nipple's Quickstep which was recently lauded by Len as one of the dozen best dances in Strictly history, but don't hold that against it.
42. Ricky Nipple's American Smooth which, with its great big final lift, INVENTED lyrical American Smooth on Strictly. But don't hold that against it.
43. Ricky Nipple's Cha Cha, in which Natalie Lowe saw that she and Ricky were not popular, and decided to remedy this by producing a gloriously sinous over-sexed cha cha in which she basically acted by a hypergrotty man-teef.
44 and 45. The one-two punch of Ricky Nipple's Waltz and Argentine Tango in the semis of Series 7, one of the best semi-final performances in Strictly history if not the greatest.
46. Scott Maslen's Viennese Waltz with the…zombie…Frankenstein…Stripper Witch theme? Whatever, it was a great dance.
47. Scott Maslen's Jive with the door and the tie-grabbing and her hurling an entire suitcase right in his face at the end, the ULTIMATE Strictly woman scorned.
48. Scott Maslen's American Smooth, not because it was any good, but because at one point she literally grabbed him by the throat and dragged him into position
49. As an extension, the fact that Natalie clearly thought she and Scott were going to win and then he entered into a swan dive starting mid series that resulted in him being eliminated in the same week as Gavin "Dancing Chippendale And I Mean The Furniture Not The Stripper…Well Actually Maybe Both" Henson, a fact which really pissed her and Scott off and which Gavin & Katya found hilarious. DOOMED GODDESSA.
50. Audley Harrison's jive, for how it ended with her falling into a hilariously outsized and vaginal Venus Fly Trap
51. Audley Harrison's Viennese Waltz for choreographing ballroom elegance for her bulkiest partner.
52. Michael Vaughan's jive, obviously, comedy genius from beginning to end I'll never hear Shakin Stevens in the same way ever again
53. Michael Vaughan's quickstep, probably the ultimate BREAKTHROUGH performance that wasn't a BREAKTHROUGH performance because the male celebrity wore a mesh shirt and shook their fanny about randomly.
54. Michael Vaughan's New York New York American Smooth, still the best (/only good) thing ever to happen at Wembley on this show.
55. Tim Wonnacott's Paso Doble to Simply The Best Jesus Christ what was that about.
56 and 57. Ainsley Harriott's ABBA Tango and rump-shaking salsa back-to-back I've not seen the likes of that level of camp since Erin Boag ran the show
58. Specifically


59 and 60 and 61. Greg Rutherford's ballroom, when the genre-picking cack-handed ocelots allowed it to happen (except the tango, that was a bit shit).
62. Specifically the part of Greg's quickstep where she did the running splits for the ENTIRE LENGTH OF THE BLACKPOOL TOWER BALLROOM FLOOR.
63.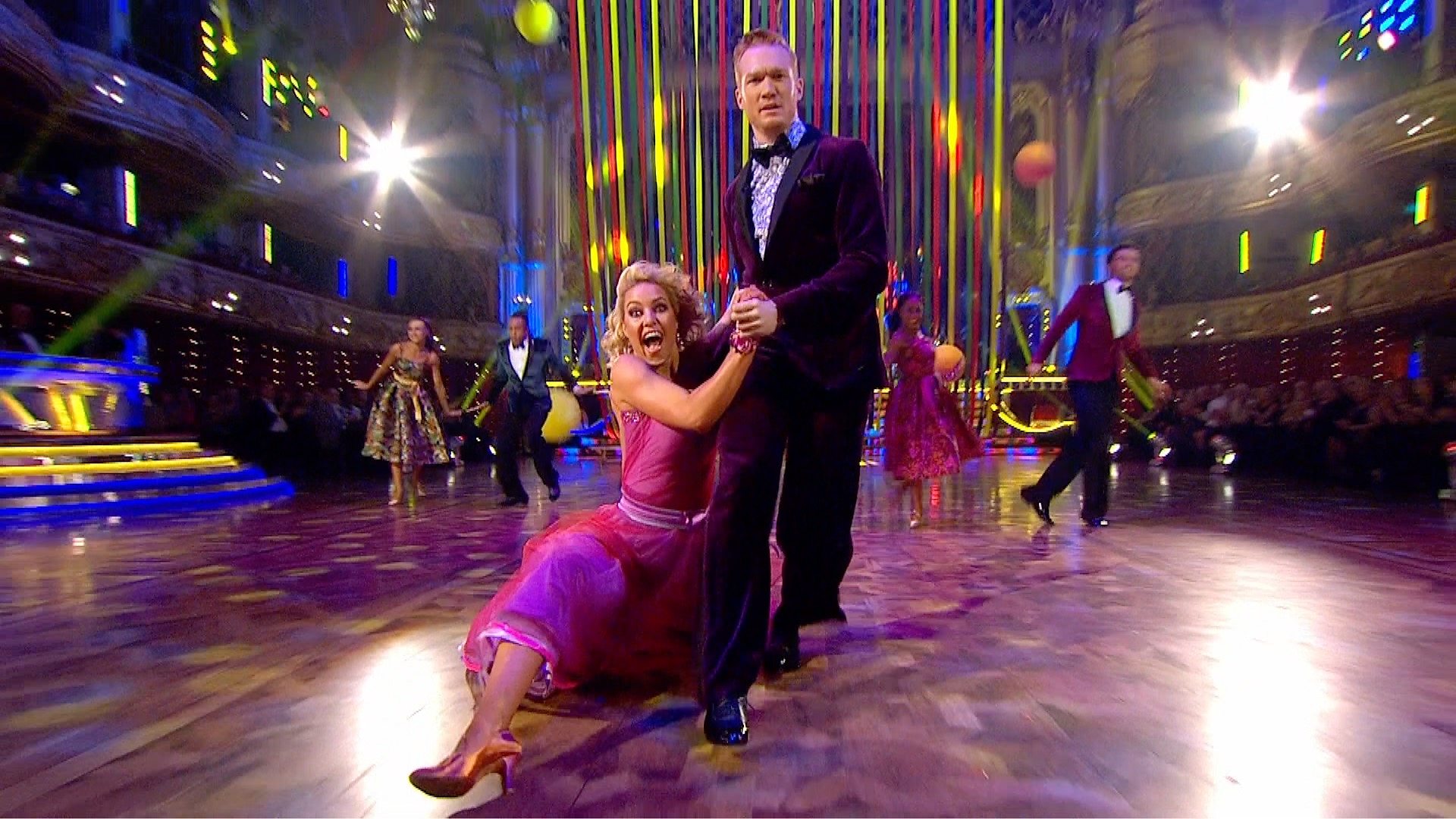 64. ROLLING IN THE BISEXUAL BACKSTABBING PARTNERSWAPPING MOTHEREFFING DEEEEEEEEEEP
65. Natalie always did really nice ballroom showcases with Ian, like a foxtrot and I think a quickstep one time, but also mostly ROLLING IN THE DEEEEEEEEEEEEEEEEEEEEEP.
66. Actually Natalie's entire relationship with Ian is really sweet on the whole, that can be a whole point.
67. Also three separate people at least have told me that when they saw them do Q & A at their live show they both talked absolute shit about every other pro on the show and in fact the entire show itself.
68.

69. I also enjoyed the ballroom pro-dance she did in her first series, which she choreographed entirely herself, which basically consisted of all the male pros running a train on her to "My Heart Belongs To Daddy".
70. The beautiful pointless sour splenetic outrage this prompted in the show's hardcore fanbase at the time, them all stomping around yelling "NICOLE CUTLER NEVER GOT TO CHOREOGRAPH HER OWN SHOWCASE ROUTINE JUST FOR HERSELF, WHOSE DICK IS THIS NEWBIE BITCH SUCKING TO GET THIS SORT OF FAVOURITISM SHARK-FACED COW".
71. Also when she started a pro dance by descending from the rafters dressed as Mary Poppins but like Mary Poppins had been summoned by a rival village to burn your crops and turn the milk of all your cows sour.
72.

73. That face she always used to pull on the balcony before every dance where she used to just stare down the camera-lens like she was going to eat your face for dinner with some fava beans and a nice chianti ff ff ff ff ff ff fff and then someone thankfully told her to stop it, but it took a long time.
74. That one VT where she "accidentally" walked in on Tim Wonnacott and his wife rehearsing together the steps she'd taught him and she melted in her heart.
75.

76. Natalie's agent profile lists her key attributes as "Elegant, Athletic, Ambitious, Confident". Which seems accurate.
77. Natalie Lowe's lifestory outside of dance as a professional aesthetician is basically that Jorgie Porter proactiv advert but not as annoying.
78. Natalie Lowe apparently has an older brother who she competed with and they NEVER invited him to be a pro all this time and also I know I did the tedious perving thing with the guy she won Strictly Australia with, but he's also not exactly bad looking, I'm saying our best and only real option for an attractive mature male pro at this point is Brenda, things could be better.
79. Natalie Lowe apparently also has a sister, who is also a ballroom dancer, and if Dancing With The Stars USA can have three Ballas-Houghs then we can easily have three Lowes.
80. In the summer before Series 13 Natalie Lowe went into press in the Telegraph saying that she wanted to win but she SPECIFICALLY DID NOT WANT to be partnered with a boyband member. Before Series 13. I repeat, what a DOOMED GODDESSA.
81. The word "AMOYZING!" which doesn't really sound like Natalie saying the word at all but which I feel sums up her spirit anyway.
82. Natalie Lowe's fiance proposed to her by pretending that he was holding her a seriously belated birthday party and then springing the proposal on her which honestly sounds like the worst proposal ever, Natalie Lowe deserves better.
83. Whatever the hell this is
84.

85. That time they gave her a cameo newsreader role for the series she was injured out, which is a much better use of anyone's time than, say, Robin Windsor's A To Z Of Strictly (*shudders self inside out*)
86. The It Takes Two segment where she took a couple through their wedding dance, in which she became insanely overinvolved to the extent that I thought she was going to pull a Single White Female.
87. The It Takes Two Ask The Pros where she got stuck with Iveta and Iveta spoke (and sang) over her the entire time and Natalie looked like she was going to strangle her.
88. Her absolute obsession with Olly Murs which came out of nowhere last year but which was so all encompassing that I think the police should keep an eye on him very closely in the month of September just in case she kidnaps him and holds an entire series of Strictly in her attic in which she and he are the only couple and they BLOODY WELL WIN THIS TIME OK.
89 The immortal Natalie Lowe head-roll which other pros (*cough*JOANNE*cough*) have imitated, but never bettered.
90. The moments where she generally


said "fuck off" to gravity.
91. The frequent times in recent years when the press got Natalie Lowe mixed up with celebrity prostitute Natalie Rowe.
92. Without Natalie Lowe there to soak up all the votes, someone with a chance of winning might actually win the blog's annual "which pro is going to win Strictly this year?" poll, and we can't have that.
93. Natalie Lowe's legs my lord they go on forever. I don't normally objectify women on this blog but those are some serious pins.
94.


95. She can maintain a boat, perform an oil change, surf like a pro, and tell us what shade of blusher best suits your skin tone apparently.
96. The fierce scarves which were a regular fixture of her training room attire for the first few years of the show, before she became accustomed to the British climate.
97. She managed to calm down Greg Rutherford after he went insane backstage after the judges criticised his cha cha, and prevented him from taking things too far after he beat off four male members of staff. Apparently. Who knows how insane and violent the male celebrities will get in her absence?
98. Apparently, like Pasha, Natalie was offered a role on the American show and turned it down, which frankly shows admirable taste and good judgment on her part.
99.

100. And one last wink for the road

101. But in all seriousness, from the instance she appeared back in 2009, Natalie Lowe has been one of my very favourite Strictly pros. Her constantly sunny and positive exterior masking a constantly sunny and positive and INCREDIBLY COMPETITIVE interior made every second of her screen time a highlight. How many pros are even left that would get one of these giant tribute posts? Realistically? Brenda and that's about it. The times they are a changing. And not necessarily for the better. GO FORTH AND MAKE BABIES NATALIE (if you want to, obviously).