Featuring more Wembley than I expected at the start of the series. Which is to say, any.
Best Judge: In the absence of Drunk Alesha, I just had to make do with the drunk that seemed drunk most often, and really that could only ever be Bruno Tonioli couldn't it? He was in the lead all the way through the series and "FANNY CLUB!" just pushed him over the top. Of course he was completely useless by the end of the series, but…that was still most of a series better than Darcey, let's be honest.
Worst Judge: It was going to be Darcey until she TOOK IT TO THE NEXT LEVEL on the Christmas Special by going beyond making fun of her "yah" tic to pick on that "BEAUTIFUL NECKLACE!" rubbish, so she's reprieved, despite her usually utterly redundant scoring. Which, given that this was a relatively benign year for Len, means that out Worst Judge is officially Craig Revell-Horwood for taking his already slightly tatty looking bitchery to new levels of contrivance and also reaching Arlene levels of being unable to resist gobbing off to the press.
Best Judging Moment: "FANNY CLUB!"
Runners-Up : The judges debate IN DEPTH with classic movie star Kimberley Walsh is most like ; "You look like a true hooker Tracy!" "…yay?" ; "HA HA JAMES, YOU SCREWED UP!!!" ; that one week where Darcey was a bitch to everyone ; Bruno speaking Italian ; any time Darcey called Denise a professional and practically winked down the camera ; the judges all troll Widdy up in Starship Karen by making every critique contain at least one gay innuendo, all culminating in Bruno yelling "SWING BOTH WAYS!!!" at Michael ; Bruno does the Single Ladies dance ; "I liked it when you had your thumb up Pasha's arse" ; Bruno calls Brenda "Brenda" then laughs in Victoria's face about how she can't dance for half an hour ; Len basically tells Bruce to piss off because he's talking now ; Bruno name-drops Mack Senett (<3) ; "Hey Tracy, saw your minge!" ;  Bruno's Mick Jagger impersonation
Worst Judging Moment: "No, I didn't see any improvement…I SAW A VAST IMPROVEMENT!!!"
Runners-Up: Everyone babbles over Craig, again, some more, forever ; "YOU'VE GOT SO MUCH ENERGY LISA!!!" (x54) ; "blah blah thumbs blah" ; "oh I never gave Louis over a 6 before so this is great!!!" ; "YOU'RE THE PEOPLE'S CHAMPION LISA!!!" ; "yah?" ; "sorry Lisa, we only like you when you're charging around like a rhino on smarties" ; "ERIC & ERNIE WILL BE LOOKING DOWN FROM HEAVEN AND VOTING FOR YOU!" ; Craig kicks Nicky when he's down ; "THAT! IS! DANCING!" ; any time Craig used a ballet term to cosy up to Darcey ; Bruno falls over again ; YOU WERE WIKE A WIDDUW TODDWER DANCING ABOWT TWACY! ; "It was a PARODY of a Charleston!" ; the never-ending debate over whether Richard Arnold was being gay enough ; "THAT WAS THE FASTEST [*blank*] I'VE EVER SEEN!!!" ; any mark given solely to further Louis' storyline
Best VT storyline : Victoria Pendleton is legit insane
Runners-up: Lisa makes up cutesy names for dance-moves before she became awful ; Pasha talks Kimberley down from her post-foxtrot ledge ; Baby Warz Week ; Iveta Lukosiute – Life Thief ; Louis' mum comes in with his lunch and STILL comes across less like his mum than Flavia did ; Aliona Does Injury Porn ; Michael finally Gets It
Worst VT storyline: Everything they dressed Tracy up as
Runners-Up : Jive Bunny ; Michael takes Natalie to Buenos Aires…STEAKHOUSE! ; Lisa says that she's going to improve her technique for Len/Darcey/Whoever then NEVER DOES IT ; COLIN WAS JAMES BOND, HE WAS, NO-ONE CAN SAY OTHERWISE ; Sid can't be arsed any more ; Brenda can't be arsed any more ; Jerry couldn't be arsed ever ; Fern is the KILLER QUEEN and by KILLER I mean FORCER OF SOMEONE TO WEAR MILDLY EMBARRASSING COSTUMES ; TRACY IS SHORT! ; Denise's mild whiplash ; I'M NORRA RINGER! ; James is jealous of Denise's intense sexual bond with Ian
Best Host : Claudia Winkleman
Worst Host : JULIEN MCDONALD I DON'T CARE THAT HE'S NOT ACTUALLY A HOST, IT JUST NEEDS TO BE SAID
Most Tedious Awful Pointless Controversy : Denise Van Ringer
Runners-Up: "WHY DO THE JUDGES NEVER EVER EVER RIP Victoria/Lisa to shreds like I apparently need them to in a BORDERLINE SEXUAL WAY?" ; "LOUIS HAS ADHD YOU BASTARDS, BE NICE!" ; "RICHARD SAID SOMETHING MEAN ABOUT LOUIS, PROBABLY, WELL BIGGINS SAID SO, SORT OF, HANG HIM!" ; Strictly Confidential ; "Natalie threw a shit fit because the judges forced Michael to dance Latin again" ; Aliona faked her injury to avoid getting a non-ringer probably I bet, RICHARD IS PRACTICALLY RAPING ERIN, WHY IS NOBODY STOPPING HIM?
Best Pro/Group Dance : SINFUL LATIN vs SAINTLY BALLROOM face-off
Runners-Up : The Gatsby Dance ; Erin & Anton waltz for Buble ; Spooky Toxic Bondage Ballroom
Most Unpleasant Guest Performance : Kylie Minogue trying to do a "credible" version of The Locamotion surrounded by men in bondage trousers
Top Moment Of PENDLEDRAMA : Getting drunk at a party after the show and calling Brenda an immature brat who needed the attention on him at all times
Runners-Up: Waving her medals around from the off ; messing up her first dance and crying ; nearly garotting herself in her rumba and crying ; yelling "I'M SHIT AT DANCING!" as she got eliminated ; spending an entire VT demanding a puppy ; throwing a fit in training because Brenda wouldn't change the choreography for her and storming out ; rolling her eyes at Brenda as he falls head-first into the set almost crippling himself ; her dancing her ENTIRE SHOWGIRL SAMBA wearing a face of exquisite discomfort
Best Shocked Face Of The Series
King Of All Pros : Pasha Kovalev, melting my ovaries on a week by week basis, even with THAT HAIR.
Runners-Up : Vincent Simone, Artem Chigvintsev, James Jordan…until The Speech
Queen Of All Pros : Natalie Lowe, for finally breaking through into the public's hearts whilst not losing her place in mine
Runners-Up Flavia Cacace (particularly that week she DRAGGED the judges on It Takes Two) ; Iveta Lukosiute ; Ola Jordan
Worst Celebrity (Talent) : Johnny Ball
Runners-Up : Jerry Hall, Fern Britton, Sid Owen
Worst Celebrity (Personality) : Jerry Hall
Runners-Up: Johnny Ball, Sid Owen, Nicky Byrne (until he was eliminated)
Best Celebrity (Talent) : Kimberley Walsh
Runners-Up : Louis Smith, Denise Van Outen, Tracy Beaker
Best Celebrity (Personality) : PENDLEDRAMA!
Runners-Up : Louis Smith, Michael Vaughan, Nicky Byrne (after he was eliminated)
Monkseal's Ten Least Favourite Dances Of The Series
10. Colin Salmon's Argentine Tango : The very nadir of the show's obsession with James Bond tangos, complete with ACTUAL FINGER-GUNS, WHICH ARE THEN USED FOR IMPLIED BLOWJOBS.
9. Nicky Byrne's Fusion : I feel bad, because I quite liked Nicky, and there's more to come, but this wasn't even his fault. This dance just really highlighted everything wrong with the whole "Fusion" concept. Two dances that didn't go together, danced poorly, to a song that didn't suit either, to an incoherent theme.
8. Louis Smith's American Smooth : Let's run around in a circle then do the robot!
7. Lisa Riley's Quickstep : Let's run around in a blob shape then do an aborted forward roll onto a sofa!
6. Jerry Hall's Cha Cha : I think the point where it became 100% obvious that Jerry wasn't lasting more than a month was when Anton gave notice that he wasn't even going to pretend he was ging to choreograph latin dances for her. And he didn't.
5. Victoria Pendleton's Paso Doble : Yeah, well done producers. She'll look embarrassed at herself under her own steam. She doesn't need any help from you, or your flying bicycles.
4. Nicky Byrne's Waltz & Nicky Byrne's Cha Cha : I honestly couldn't put a cigarette paper between them to decide which was the worst example of misguided choreography and absent technique. Thank GOD they got better.
3. Sid Owen's Tango : Can we finally, please, for all time, put an end to "Rock Tango"s unless someone really really REALLY thinks they can do something transcendent? That is to say, not this.
2. Sid Owen's Cha Cha : I can't remember a dance on this show where it's been so transparently obvious that neither dancer wanted anything to do with it at all. Iveta pissing off Aliona put the lid on the coffin of her never being asked back and I'm guessing this, sadly, hammered the nails in. With a proton gun.
1. Lisa Riley's Samba : ZOMG REMEMBER WHEN LISA DID DA SPLITS OMG LOL COZ SHE'S SO FAT!
Monkseal's Twenty Favourite Dances Of The Series
20. Fern Britton's Salsa
Let's face it, Fern Britton's stay on Strictly was not a memorable one. Artem spent most of the time soft-lobbing her basic routines that she didn't seem to be putting much elbow into. Which is why it's sad that her one defining moment this RAMPAGE of wanton middle-aged sexuality was what saw her off in the end. That and time. Fern CAME AHT, boobs and back-boobs both a-flying and clearly it was too much for the prudes of Great Britain to handle. And I thought 50 Shades Of Grey CHANGED YOU, people! For shame.
19. Louis Smith's Charleston
Yes, ok, the faces were kind of affected (IN A CHARLESTON!) but this is the dance where Louis surpassed the Gymnasts Of Strictly Past (by which I mean OLYMPIC LEGENDS Matt Baker and Gabby Logan) by finding a way to dance in a muscular way without coming across as aggressive or forced (except of course, in the face). Ignore all the fake journey bullshit, and really underneath there's one of the best Charlestons on any series. Complete with unnecessary backflips and sommersaults!
18. Richard Arnold's Paso Doble
So…Erin set the entire studio on fire then.
17. Kimberley Walsh's Viennese Waltz
I can't really forgive it ENTIRELY for being the dance that dumped Kimberley Walsh into the Bottom 2 before her time, but as dramatically overwrought Viennese Waltzes inspired by the movie Twilight go, it could have been worse. Kimberley's elegant ballroom never quite hit the heights you feel like it could have, but this was her best bet, and appears to have spawned a thousand tumblr gif-fests from the Pasha Nuts, which shows that it did something right.
16. Denise Van Outen's Paso Doble
I mean…we all know she should have danced this with Anton du Beke, for James' health if nothing else, but this version of it will just have to suffice. This was the dance where Denise most thoroughly tapped into the spirit of West End drama and produced an OTT paso doble for the ages with a range of Drama Faces that Karen Hardy herself would be proud of.
15. Michael Vaughan's Jive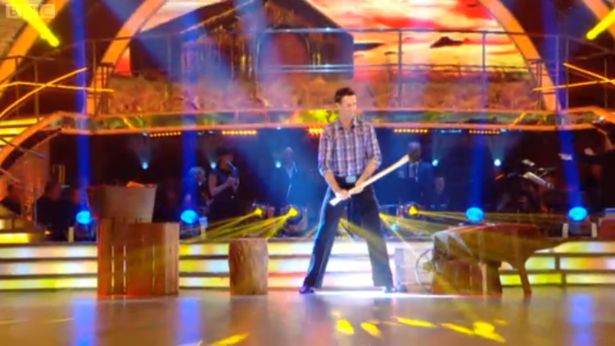 As amazing as Natalie Lowe has always been, she's never quite shown the skill for Comedy Choreography that this routine demonstrated in spades. At least…I think it was supposed to be funny. Her collapsing into fits of hysterical laughter afterwards really put the icing on the cake.
14. Kimberley Walsh's Tango
You've got to love a breakthrough dance. Kimberley Walsh spent most of the first half of the series as a self-flagellating perfectionist, bursting into tears when she messed up and repeatedly punching herself in the head in training. Oddly enough the public did not connect with this as part of their Saturday Night Entertainment. Then she was in the bottom 2 and loosened up, firstly with her Wembley samba and then even more emphatically THIS, where she whipped her neck back and forth, clawed at Len's face in a sexual manner and ramped her pout up to 11.
13. Louis Smith's Waltz
Very rarely has such a sweet dance been so overwhelmed instantly by the judges galumphing their hands all over it with their fakey bickering. I always liked Louis the most at his most lyrical (well…apart from that Showdance that we don't talk about) and this was where Flavia let loose that side with the most effectiveness. And then they curled up on the swing-sofa and watched Dirty Dancing and Louis tried to encourage Flavia to get out dating again because he really wouldn't mind a stepdad and then Flavia said that well, she'd met this guy called Jimi…
12. Michael Vaughan's Quickstep
Bless Natalie and her left-field choices for Hallowe'en Week. Whilst everyone else is a generic witch or zombie or (*roll eyes*) Scooby Doo, Natalie's choices for inspiration were Frankenstein's Monster, Little Shop Of Horrors and now an undead magician. This was the dance where we learnt that, if he put his mind to it, and trained for 150 hours a week, Michael could dance ballroom beyond the usual "Nice Week 1 Waltz" level. Up to this point he was just a redundant cricketer contestant who was only good for unflattering comparisons to Ramps and Goughy. THIS is where he became a contender. Well…ish.
11. Louis Smith's Salsa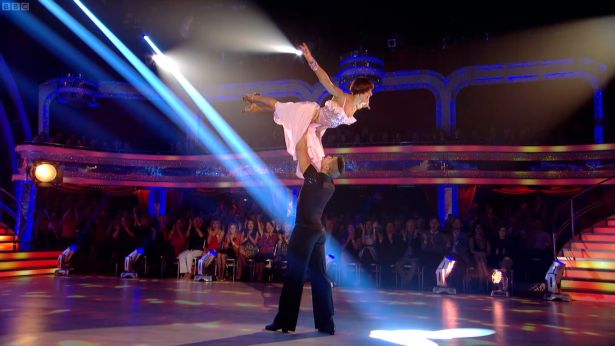 The version they did in the final, where they found some more actual dance to stick in to bide time for DAT LIFT. I really think that Louis was possibly the only contestant this year who could move his hips at all? I know party latin doesn't matter to most of you, but it's STILL REAL TO ME, DAMNIT!
10. Denise Van Outen's Tango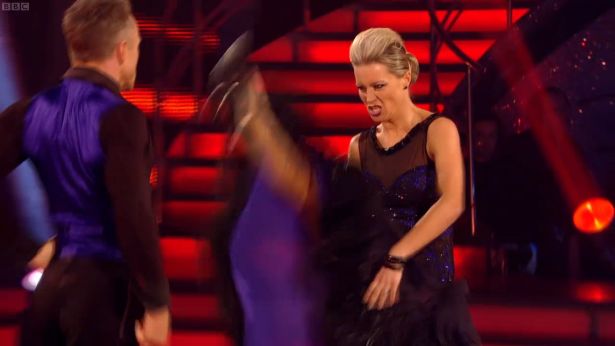 TAKE THAT CHRIS EVANS, YOU DICKHEAD! BAM!
9. Richard Arnold's Salsa
Hey, I never said I wasn't easily bought.
8. Victoria Pendleton's Tango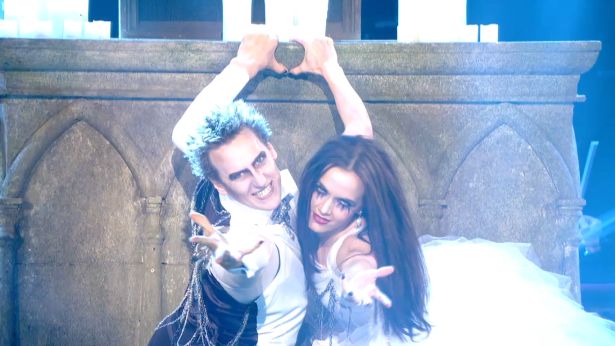 Hallowe'en Week was really all about the breakthroughs of both Michael Vaughan and Victoria Pendleton. And in retrospect, Victoria's was the more remarkable, as she never reached this level ever again, not even close. Just as everyone had written her off in the wake of her rumba, she came back with an ethereal dramatic tango based on a blasted wedding ceremony to Brenda in a haunted crypt soundtracked by Billy Idol. Brendan + 80s + Emo Goth Drama = Classic Strictly. There is no equation more proven.
7. Kimberley Walsh's Fusion
The most gaymazing routine ever choreographed on this show by somebody by other than Ian Waite or Erin Boag. And that is exalted company indeed.
6. Lisa Riley's Cha Cha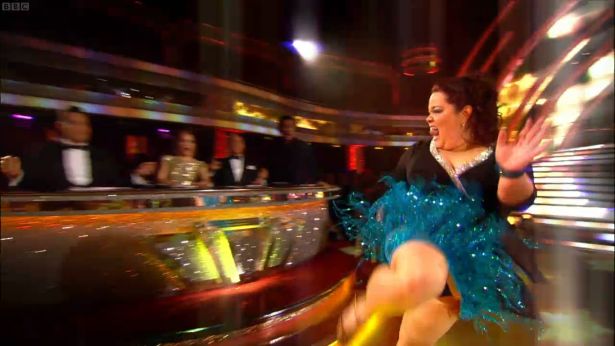 I feel like an entire lifetime has happened since this dance. Her ego got out of control, she did a lot of bad dances, Robin's choreography repeatedly revealed itself to be limited in scope, and we all get multiple fingers wagged at us for daring to like this dance at all because we all only liked it because we were surprised because she was so fat right? And yet it's still a joy to watch. Exuberant, triumphant, forceful, camp as tits and full of energy to propel her on for another 10 weeks despite never doing anything this good ever again. I'm working on a theory that in fact Lisa Riley was the Benjamin Button of Strictly and that we somehow watched her time on the show backwards. It's a theory I think we could all live with more happily than the reality.
5. Tracy Beaker's Viennese Waltz
Tragically this is Tracy Beaker's only entry on the list. Her tango was too vicious, her jive too clumpy, her Argentine Tango too undercooked, I never got her fusion and the salsa had THAT LIFT in it where Vincent dropped her on her face. This is the only dance of Tracy's that really made me sit up and take notice of her as a contender, just because her dancing really clicked with Vincent's choreography and transcended the show's desire to get us all to believe she was 12 so that it looked like a JOURNEY when they suddenly started treating her like she was 18. Tracy Beaker was 23.
4. Louis Smith's Tango
No contestant was ever more suited for the role of Zombie King no?
3. Denise Van Outen's Charleston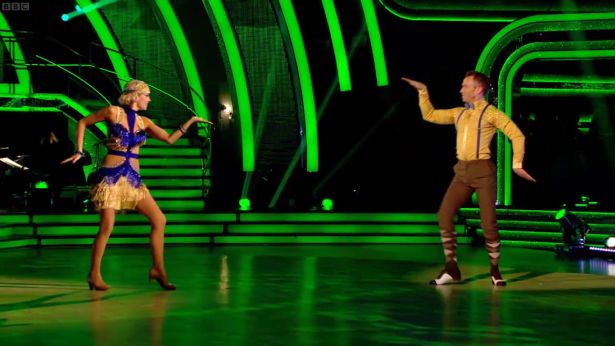 Yes, it was the best Charleston of the series. This year the producers finally clued in to the fact that they couldn't just do normal ballroom dances in the Wembley space and expect it to translate – there needed to be big bells and whistles production numbers. And so out came the rope swing and the manservants and the Egyptain stylings. Denise danced her arse off, filled the room and actually justified the 10s that blatantly only came out because it was Wembley Week anyway. It wasn't quite as amazing in the final, but if ever a dance made all those weeks (STILL ONGOING) of tedious debate about her ringer status worthwhile, it was this one.
2. Kimberley Walsh's American Smooth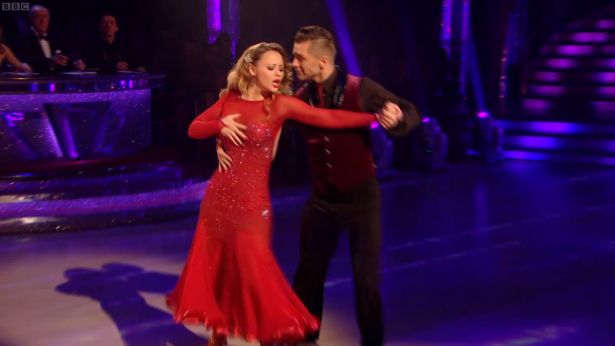 Oh yeah, Kimberley Walsh is in your Strictlys slutting Pasha into murdering her husband for the insurance money and you LOVE IT.
1. Michael Vaughan's American Smooth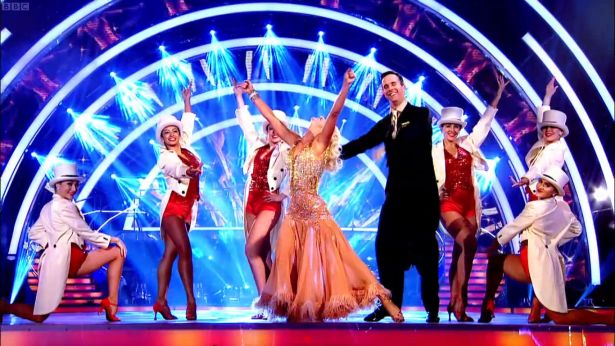 Don't ever say I don't know my own tastes. I knew as this was happening that there was no way any other dance would supplant it as my favourite of the series, and I was right. From the second the music started up, the dance just gave me that rush that happens when a pro, a celebrity, a genre, a venue and a piece of music and even a performance slot all come together to produce a singular moment IN STRICTLY. My favourite anecdote this series is when Michael Vaughan was on It Takes Two and he talked about getting THE CALL from the producers saying that they'd seen his American Smooth and it was getting the pimp slot. Never has a producer of this show who wasn't Evil Moira Ross been so right.