PENDLEDRAMA!
We start, happily, with the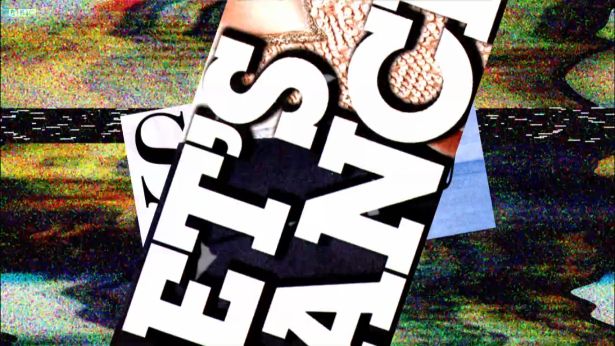 WHIRL of headlines that was so sorely missing from the Launch Show. Well…to be honest, it's only two whirling headlines followed by
these two going "YAY, IT'S STRICTLY COME DANCING!", but I'll take what I can get. Also, I don't know what she's so excited about. The first show's on at 9pm, which is well past her bedtime. If she's good, she can watch it on Saturday afternoon, when she finishes her Maths homework. I don't care if divsion is HARD.
You know who will be watching the show though?
ATTRACTIVE YOUNG PEOPLE! TAKE THAT SIMON COWELL! The show makes them want to just GET UP AND DANCE! It mostly happens when Bruce comes on. They get up, then go and dance in Movida, then do too many shots and nosh off the barman round the bins at the back with a kebab in one hand. YOUNG PEOPLE!
Fortunately for the celebs egos, apparently these attractive young people walk around the streets of London loudly saying things like "I really think Fern is going to be really amazing and really surprise people"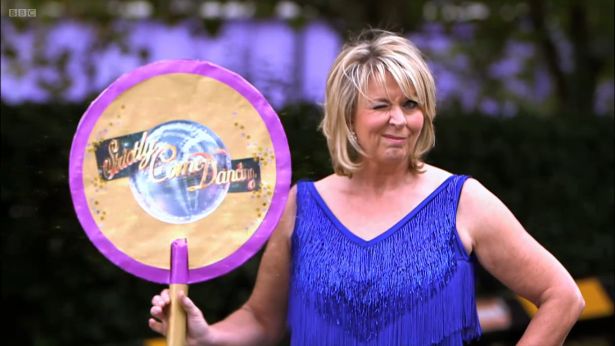 "Kimberley and Pasha are going to be so sexy together! It's so exciting!"
"That Johnny Ball, he's a national treasure! I loved watching him whilst I was growing up!"
and "Fucking Van Outen, such a bloody ringer. So annoying as well – you can tell that accent's fake. My sister's husband's neice's best friend went to a threatre workshop she did once and she was a RIGHT bitch. I hope she goes out first".
Poor Denise.
So there we are. I certainly hope that's the last we see of the general public this year. Pre-amble over with, it's time to find out who the "HO!" is. For the uninitiated, the "HO!" is the person who is on screen in the opening credits at the point when Lance Ellington yells "HO!" halfway through (those lyrics from the Launch Show certainly mysteriously disappeared didn't they…). Past luminaries include Widdy, Nancy, and other people for whom it wasn't as funny, so we don't mention them as much. Anyway, this year's ho is
TRACY BEAKER!
For those of you wondering why…
this is why. Dirty minx. Who would have thought he'd visit The Dumping Ground in Week 1?
Anyway, to the dancefloor now, where Bruce and Tess are just arriving. Tess
dressed as a butt-plug. Judging from her hair, she's just been removed. I do wonder what the flaps are for. But then I often wonder that with Tess. Sadly, this dress precludes her from kneeing Bruce in the crotch, like she normally does to start the show so instead they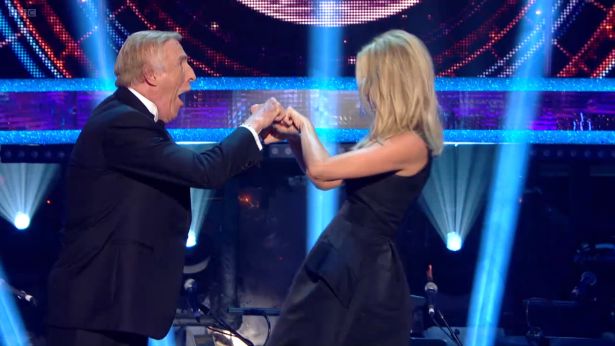 bump fists like they're in The Brady Bunch. RIGHT ON! It really is a whole new era of Strictly isn't it?
We get the usual "nice to see you, to see you I need a cataracts operation, I'M SO OLD". Or whatever that catchphrase has been adapted to these days. Tess asks Bruce if he's been up to anything these last few weeks, apart from the usual (asking Wilnelia when his tea will be ready, throwing tennis balls at passing children out of his window, writing angry letters to the Evening Standard about whoever the Labour leader is). Bruce replies that he's been on holiday in France, where they treated him like royalty. That's right, they tried to guillotine him.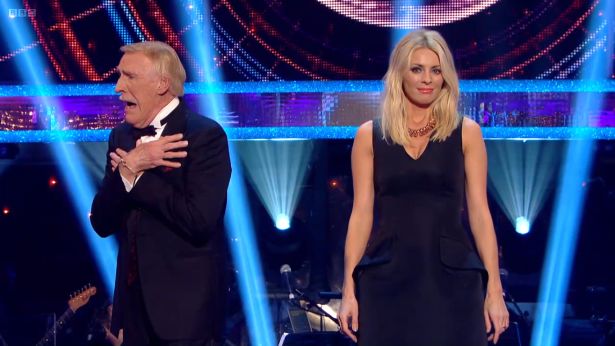 VIVE LA REVOLUTION!
Not really, they kept on trying to photograph him topless. Then print the pictures with ET's head superimposed on top to claim that alien life had landed in Brittany.
Tess calls Bruce back over from mugging into the front row, and tells him to calm down, because there's a show on, and thanks to him they're now already 18 minutes behind schedule. The celebrities and pros have been training for this moment for THREE WHOLE WEEKS (not training very hard by the looks of it). Show some RESPECT! Six couples will perform tonight – either a Cha Cha or a Waltz or a Be Dragged Around Crying (PENDLEDRAMA <3). Then, tomorrow, the other eight will perform. Then a week later all 14 will perform, all the scores will be combined, and then we'll have a dance-off (OH YES, I'LL COME TO THAT, DON'T YOU WORRY, BLOODY DANCE-OFF), and then someone will go home.
Got it? No? Good. Because it's time to meet the STARS OF OUR SHOW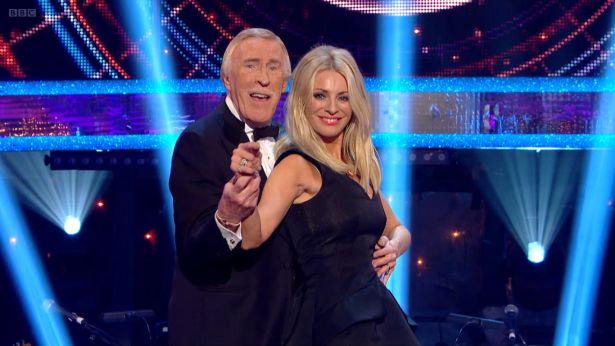 Bruce's Sexual Harrassment Defence Lawyers,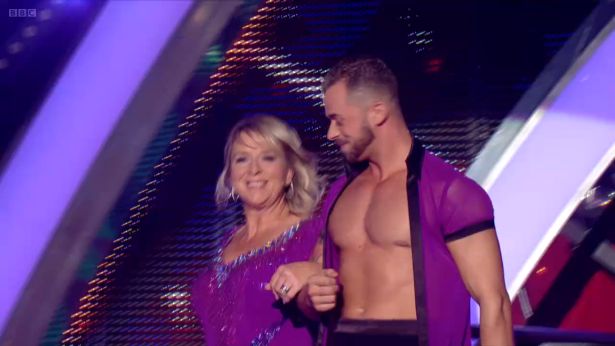 and Artem's Tits.
Once everyone's out, Bruce tells the celebrities that they all look beautiful. Ten years of this have given him a real sense of empathy for you guys. He knows exactly what you're all thinking.
"Pop a couple of meatballs and some ragu on that do, and you've got yourself an authentic Italian classic". Sadly, Bruce's psychic powers misfire, and he really says they're all thinking "am I this year's Russell Grant?". Yes, I'm sure Louis Smith is thinking that. Bruce then explains how the first two weeks are going to work again, to a very confused looking
Anton. I guess this is because he's never really moved on from the first series elimination system – the couples dance, everyone gets scored, the public vote, and then Lesley Garrett is in the Bottom Two regardless because she's bloody annoying. (TEAM LANTON 4EVA!) We finish with Bruce reminding us that the Dance-Off is back (…) and then he tries to get the audience to all cheer or boo or at least react a LITTLE, and nothing much happens.
BACK BY PUBLIC DEMAND!
Tess wanks on about how SCARY and NERVE-WRACKING this series is going to be, and how much GRINDING MISERABLE PRESSURE is going to be put on the celebrities until they KILL THEMSELVES (I know I've missed this general tone over the last two series), but do you know who on this show has most reason to be terrified?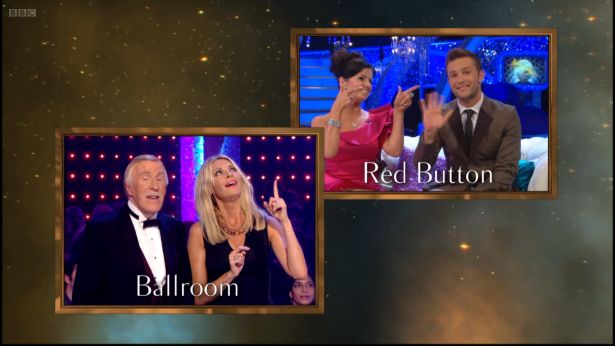 Poor guy. She'll eat him alive. Has he got married yet? I wonder if all of McFlea ran in halfway through and joined in, screaming and shouting. I am of course referring to his honeymoon night… Are those cobwebs in the back of Starship Karen? Is she in fact one of the Rachnoss?
Enough questions, it's time for the DANCING.
Team Fartem dancing the cha cha
I'm guessing that, in honour of her ancestor Judy Finnegan, Fern just dropped a boob. Also…yeah, that whole "first person performing on the show always makes the final!!!" thing has been long forgotten at this point hasn't it? Apparently Ferm has told Bruce that's really looking forward to wearing some really skimpy, sexy, revealing outfits. Artem looks
less keen on this happening. He probably knows that JELUS KARA will bean him with a frying pan or something. (DOMESTICVIOLENCELOLZ!)
We begin Fern's VT, as we spent most of her Launch Show introduction with her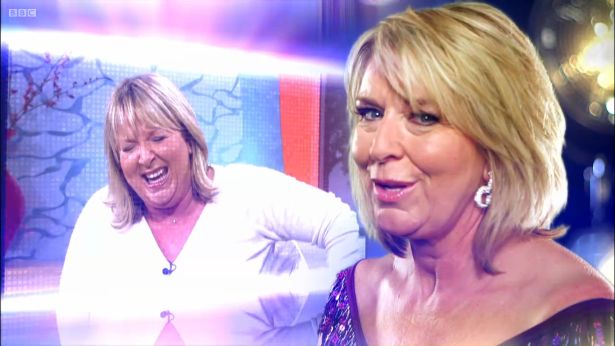 remembering happier times. I feel like I've just brought her a Harvest Festival shoebox. We reel back through the This Morning years to her days on Ready Steady Cook, where she flapped around haplessly and humorously, making wry asides to camera, and where she met her tall, dark and handsome husband, chef Ga…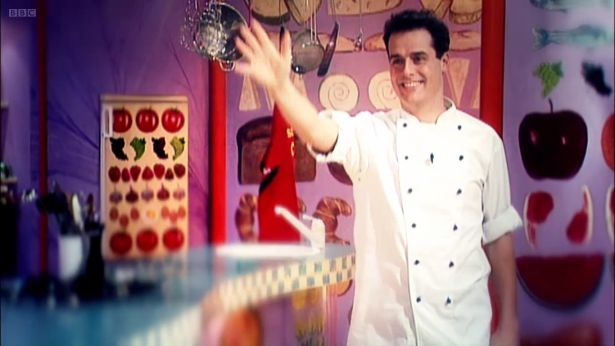 oh no, wait, that's the plot of Miranda isn't it? Although I now really want to meet Fern's mum. Ainley Harriott can be that gay one who's always in the back of shot for no reason, pulling a face. Brian Fortuna can be Stevie. I think I've mixed this metaphor enough now, yah?
Fern says she loves dancing, but mostly that sort of freestyle, creative, deeply personal expression of your inner id that you do on wedding dancefloors at 1am, when everyone else has gone home, expressing your innermost personality
/when you just copy Uma Thermal's bits from Pulp Fiction. And then your kids tell you to stop it. We're reminded that she's partnered with Artem, and feels very lucky to be so.
Thunk. Ahem. He tells us that he is sexy Russian Taskmaster, but only because he "likes to achieve things". Who doesn't?
Training now (I know! Training footage! It won't last.). Fern tells us that she's finding cha cha more difficult than she anticipated. Artem appears to be finding
heterosexuality harder than he anticipated. Keep trying Artem! For Kara! He tells us that he can't be harsh to Fern, because she's such a sweet earnest person who tries so hard. (*cough* unlike Holly *cough*). I know this is supposed to make us warm to Fern, but what REALLY makes me warm to her most is her using his new Sweet Artem Who Likes Cuddles persona to
try to cop a feel of his arse. Attagirl.
To the dance-floor now and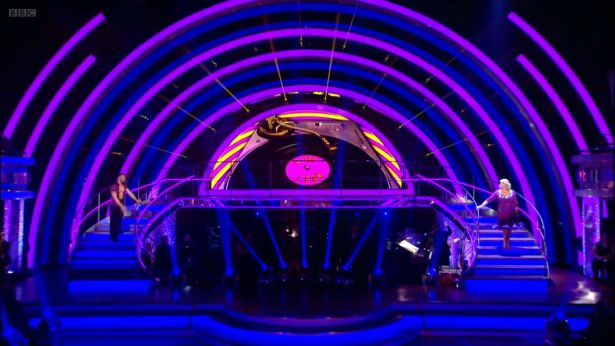 wow. That's almost as far apart as Louis and Flavia were during the Launch Show. That's some confidence letting her start the first show out on her own like that. My favourite part is Fern blatantly looking for Davearch for support. Don't expect anything out of that stone-face Fern. He broke emogirl82s HEART in-between series, the callous loverat CAD. Never fall for a bandleader. They're dancing their cha-cha to "Signed, Sealed, Delivered" by Stevie Wonder and the whole thing is really a masterclass in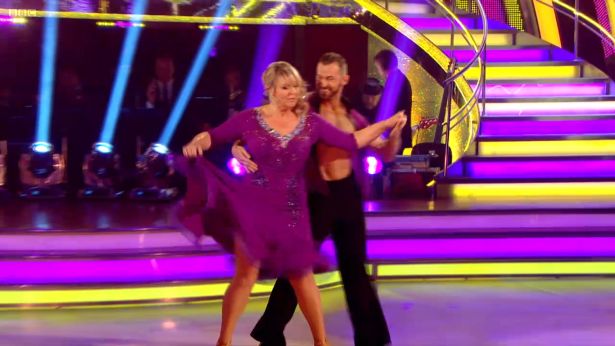 swishing your skirt around to make it look like your hips are moving. Seriously, that skirt is to Fern as the lamp-posts were to Holly Valance. The whole thing is a little slow, and a little clompy, and she messes up one bit extra-badly and just swishes her skirt about randomly and grins to cover. But on the other hand it's charming and both
"I am a middle-aged woman confident in her sexuality" faces the likes of which we've not seen since the heady days of Letitia Dean and Artem's tits feature heavily, so it's a thumbs-up from me.
Also I like the end-pose. WANTON MIDDLE-AGED SEXUALITY! It's like a statue dedicated to "Let's Do It" by Victoria Wood.
Over to the judges they tromp, where Bruce tells us it's time to do the usual introductions, and Fern's pinkie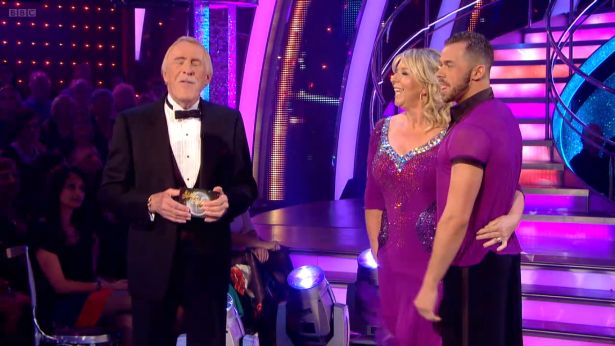 waggles ever closer to forbidden territory. Those introductions? Are of course reserved entirely on this blog for
THE MAN IN THE HAT. I know we learnt his "real name" at the end of the last series, but I've effectively bludgeoned that out of my head with cheap wine, so YAY FOR THE MAN IN THE HAT! Especially as he
doffs it so elegantly. Who doesn't love a good doffing? I feel like printing t-shirts saying "I got doffed by the Man In The Hat".
Also introduced are our judges for the evening,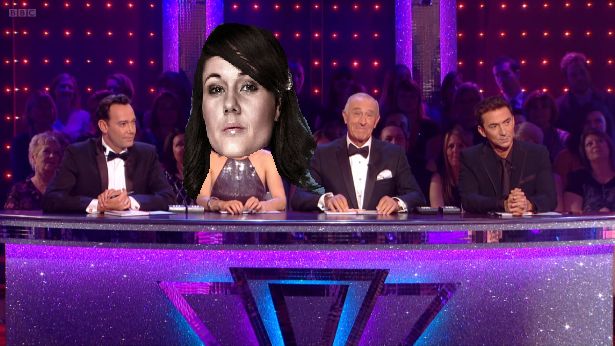 Bruno Tortollini, Bloody Len, Craig Revell-Tryhard and Natasha Scribbins from The Apprentice, yeah?
Bruce tells us that Natasha used to be Britain's Prima Ballerina (ie she did a ballet themed photoshoot in Prima Magazine once), and has won so many awards (Head Girl, House Captain, Mr Bellows Memorial Charity Award For Helping The Less Fortunate, ). It's going to be a real treat to have someone who really knows about dance on the show.
Anyone wondering what Darcey's "Bruce Joke" face is, it's this, yah?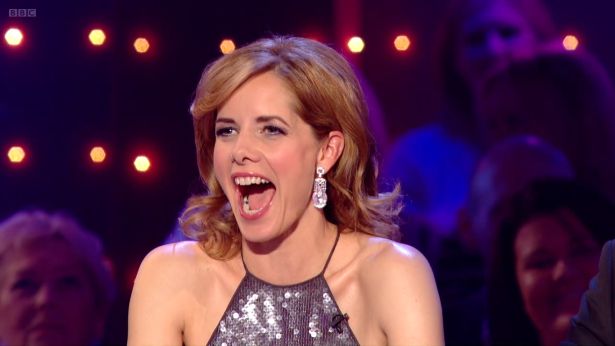 You can almost feel the agony can't you? I guess there's a reason you don't really get comedy ballets.
Len starts the comments by saying that the first person out always sets the standard for the evening (and gets low-balled as a result). He thinks, on the whole, there was more good than bad about that routine.
In that Artem's tits were out most of the time? Len clarifies that Fern's foot placement was good (they did reach the floor most times, yes) and she had confidence (/scary faces), but on the other hand her Cuban Breaks were broken and she wafted her skirt a bit too much for his liking. Len says that this is an UNFAIR ADVANTAGE for the girl celebs as the POOR MALE CELEBRITIES have nothing they can waft around to get more votes! Artem's tits beg to differ Leonard.
Bruno's next, and he says he didn't mind the wafting and understands why it might have been necessary. I guess there's a reason they're called Team Fartem. He also thought it was "flirty and flirtatious". Wow! At the same time?! He does think she needed more "impotence in the middle regions".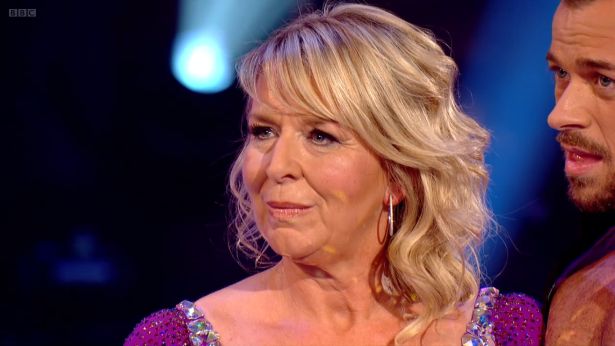 With Artem? Not likely. I'm guessing he means "impetus".
Craig's next, and he tells Fern that she needs to straighten her knees and her legs to get more hip action, it was laboured and lacked dynamics. On the other hand her hands are nice (oh Christ, not this again), and she "has natural rhythm". No she doesn't Craig, that's just the spray tan. Natasha closes by saying it was a very confident performance, but also clearly her nerves got to her (?). She did like how it was so cheeky, and she simply adored Fern's "lovely little grin".
So adorable.
Up to the Tessanine now, with Artem giving the crowd
one last eyeful before he departs. Tess grins inanely that everyone up here is BEST FRIENDS ALREADY. Jerry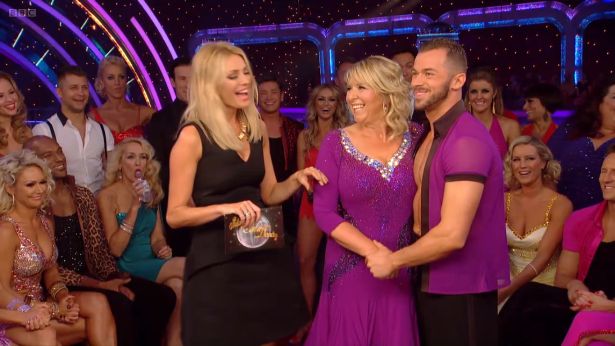 disinterestedly sucking on a "water" bottle and giving everyone evils begs to differ. Fern says that she agrees with everything the judges said but she had a great time out there and she'd really like to thank Artem for everything. Tess gushes that she's "never seen Artem so yielding". Jerry pulls a cynical blowjob face, clearly having seen footage of his Mumba with James. Fern says it's all editing – Artem's a right bastard. At one point he left the room by flouncing his hair and saying
"I AM ZE TERMINATOR!". He's such a dork. I love him. (My favourite thing about that show is that you could turn Fern's head 180 degrees and it'd still look right.)
Scores are in –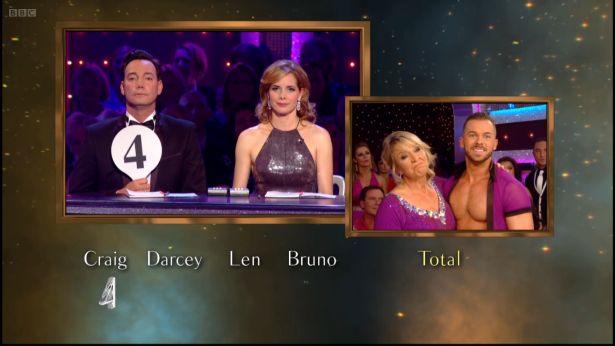 19.
Nicky Westlife & Karen Hauer dancing the waltz
I love how he is, objectively speaking, orange, and yet still seems really white compared to everyone else. So Irish. So Westlife. Karen is of course, grin-shrugging away. Bruce tells us that when Nicky was in Westlife, their manager(/"manager") was Louis Walsh. OH! The same Louis Walsh who spends every series of X Factor saying Bruce should just die already. This should be interesting. Between Nicky and Denise, Bruce seems to hate a lot of the front-runners this year. Can't wait to find out that Tracy Beaker ran over his cat. Bruce wonders aloud "whatever happened to Louis Walsh?" Jedward happened Bruce. And he was never the same again.
Nicky's VT reminds us that Nicky was in Westlife, and they were quite succesful and that 6 years ago, everyone's hair looked like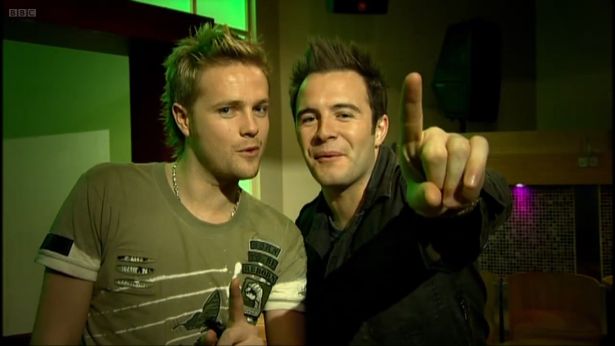 this. But after 14 years, Nicky decided to "move on". To this. Of course 5 seconds of footage of screaming fans and he tears up and tells us he's really starting to miss it. I've got the reunion pencilled in for 2014, don't know 'bout you.
Then, suddenly, out of nowhere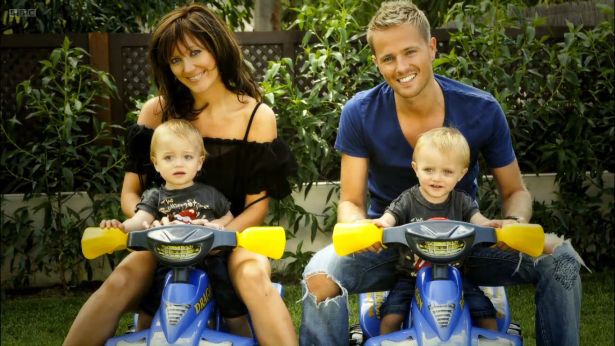 BABY WARS! They are called Rocco and Jay, and they are twins. Frankly, I feel nuked. Have we ever launched BABY WARS this early? Did Brucie get confused when the script got him to tell people to press the Big Red Button? There's also a random shot of them hugging a dog but I think the COOT might count as a war-crime.
Alright there we are. Don't blame me if The Hague come knocking on your door.
This is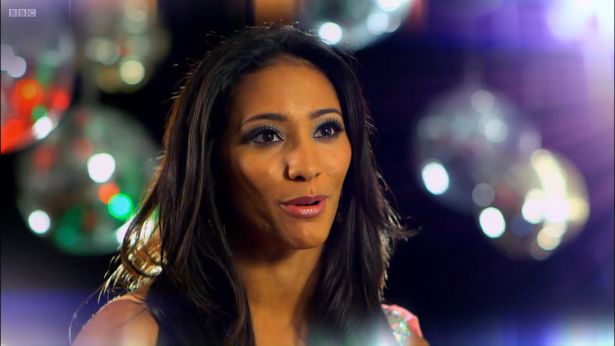 Karen. She's new. She'll learn. Apparently Nicky asked her what her favourite Westlife song was (because that doesn't at all make him sound like an egotist) and she replied that she'd never heard of them, because she's from Venexuela by way of New York. She does know The Backstreet Boys though. What an odd nickname for Artem and Robin…
Training now, and Karen tells Nicky that he has a really nice frame when he's dancing on his own, but when she gets included in it, it goes wrong.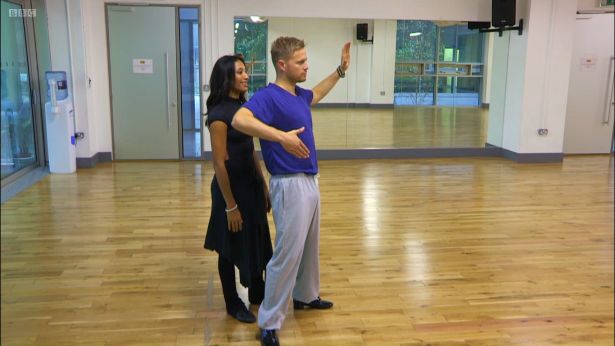 Is that a nice frame? He seems half bent over backwards. The only thing being framed flatteringly is his crotch in those jogging bottoms. Ahem. Nicky jokes that he'll just dance on his own then! I've got a feeling it might help in the votes actually… Anyway, Nicky and Karen joke around about how he says "turd" instead of "third" and Karen
shrug-grins that she's never been to Ireland, or heard an Irish person speak ever, so how should she know? Oh Karen, don't worry. Come Week 6 you'll be doing the Riverdance around Belfast dressed as a leprechaun. I have faith in Comedy VTs. We close on Karen critiquing Nicky's attire, as he is apparently turning up for training inadequately dressed. Apparently the combination of shorts and ballroom shoes is
"a big no-no". I'm thinking she just wants him back in those jogging bottoms. You know, speaking of a big no-no. Anyway, Nicky puts his pasty white legs away, and all is resolved. TO THE DANCE-FLOOR!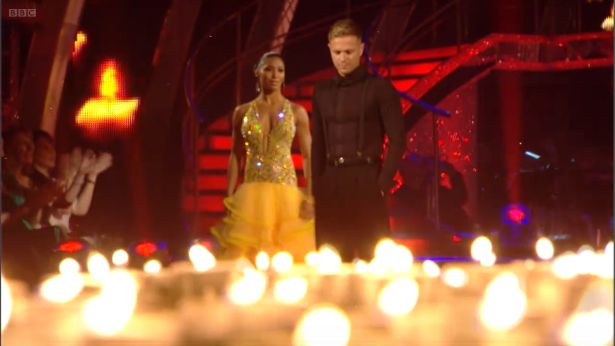 Bloody hell, who invited Lennox back? It's like Tealight City out there. The strains of Curtis Steigers start up (strain being the operative word), and Nicky starts posing away with his hands in his pockets wearing
braces and a sexy figure-hugging mime top. I can't believe Karen was critiquing his outfit in REHEARSALS. He looks like one of the Butlers In The Buff.
The dance itself? You can see why she was saying he looks more awkward when she's touching him because…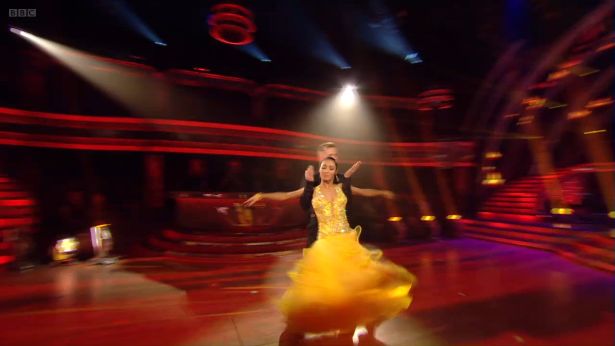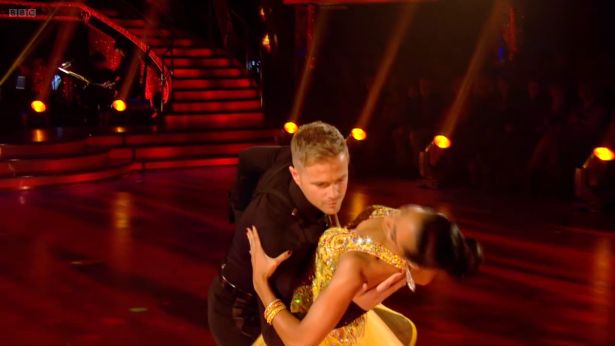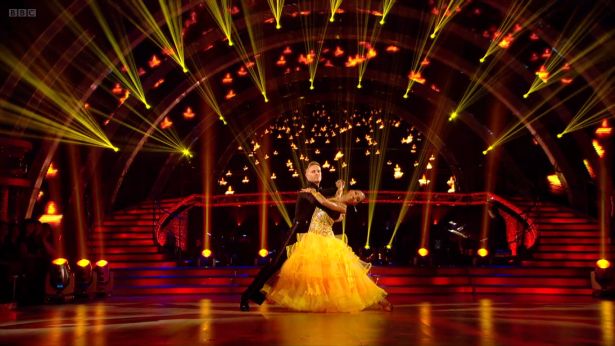 he totally does. Also the rise and fall is hilariously exaggerated, and is coming entirely from his arse. It looks like he's doing squats. Fortunately, Karen Hauer is, for a newbie pro, wise to the tricks of Strictly already and choreographs a good portion of the dance out of hold, vamps sexily to distract, has set half the studio on fire, and
girl that isn't even subtle. There's some truly awkward back bends, one of which ends up looking like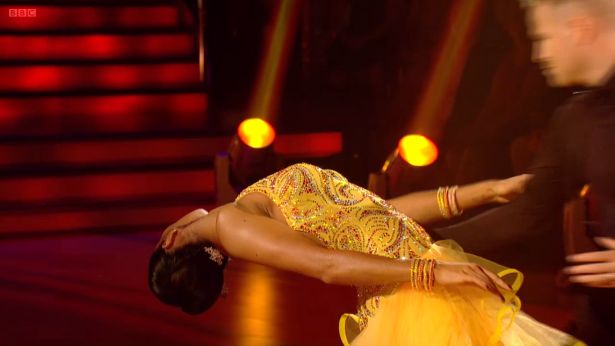 Karen is one of those zombies that gets shot in the face, but keep on coming anyway. BRAINS!
WHY LOUIS WHY?
Everyone applauds, although there's no standing ovation. THE MAN WAS IN WESTLIFE PEOPLE, HAVE YOU NO RESPECT FOR MUSIC HISTORY? Speaking of no respect, once they reach the judges, Bruce tries to make out like Nicky was really disrespecting Karen's sexy femininity by turning up to training in shorts.
You haven't got your own sitcom yet Kaz, calm down. Nicky protests that it was a hot day. Maybe it was just the air-conditioning? (*mourns for Gavbot*)
Bruno starts, and makes fun of Nicky for "working his boyish good looks"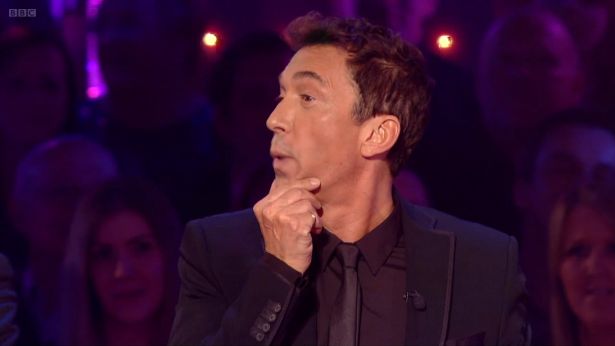 rather than dancing. With you on the panel Bruno, who can blame him? He praises Nicky for "never missing the light once". Given that the studio was lit up like a bonfire Bruno, that would kind of be difficult. He reams Nicky out for his terrible posture, and his lack of connection with Karen. He needs to see more INTIMACY!
Like he has with LEN! God, it's like seeing a couple at the airport who've been separated for months, practically dry-humping on the luggage carousel. ALESHA GOT IN THE WAY OF THEIR LUST FOR TOO LONG!
Craig follows, and of course he reems Karen out for the lift, because apparently there are "certain rules in Strictly Come Dancing that one must abide by". HA HA HA HA HA HA HA. Like WHAT? "Don't try and deal by the Judges Table, that's Bruno's territory"? "Do not mention the Arlene"?. "Do not pin a "Do Not Resuscitate" sign to Bruce's back, not even as a joke"? Anyway, waltz is one of the dances where you don't do lifts. Karen's face meanwhile says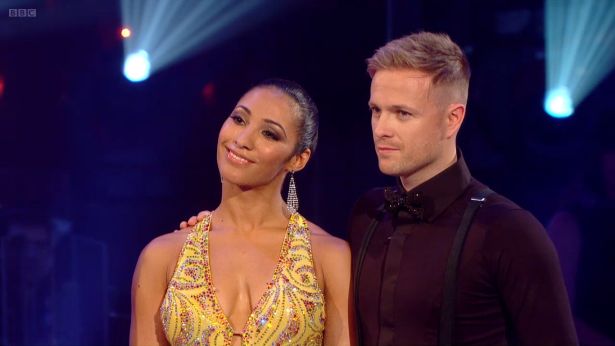 "LOL, Aliona's broken, Natalie's a goody-goody, if Colin lifted Kristina she'd get altitude sickness and throw up everywhere, Erin's on the island… who else is going to do it?" He calls her "the female version of Brendan Cole" (what an insult), and Karen
celebrates whilst Brenda himself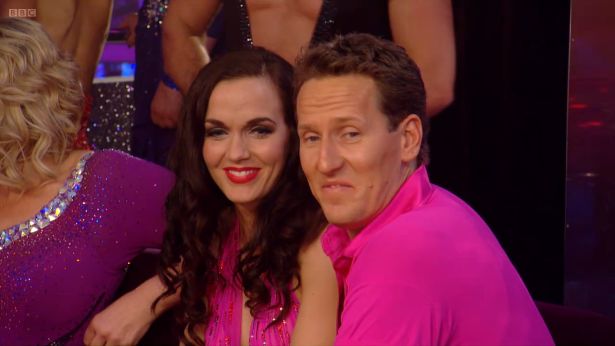 looks mildly affronted. Come back in 10 series and say that KAREN. You aint never going to be Brenda Cole. Craig closes by telling Karen he's going to MARK HER DOWN. Why not wait until the American Smooth when she could "do as many lifts as she likes"?
Might want to read the rules before spouting off about them, Craig.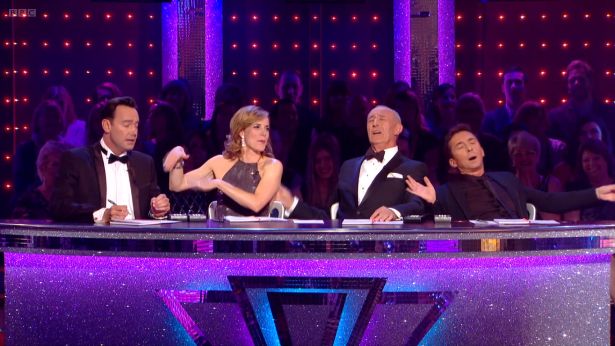 Quite.
Darcey is next, and tells Nicky that his strength is "obviously musicality". Yes, you don't perform such classics as "Bop Bop Baby" without some sense of music. (*guffaw*) She says "yah" a lot and then tells Nicky to get Karen to improve his posture by doing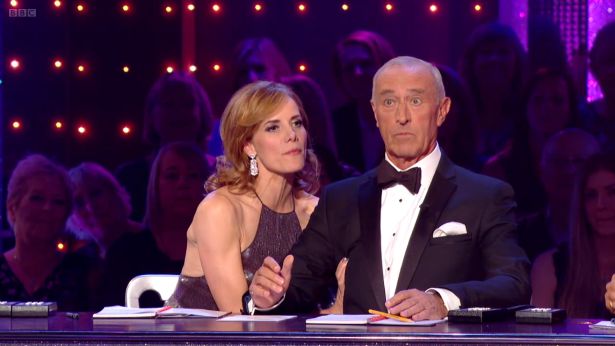 this with him. I think Mrs Westlife might have a few words to say about that Darcey… Good advice though. Prostate cancer is the silent killer.
Bruce tells Karen to get more intimate with Nicky, then offers to show her how (Poor Wilnelia) but then Karen just giggles and runs off up to the Tessanine.
Once up there, with Karen gurning and doing a turkey dance the whole way (?), Tess asks Nicky how it felt to do his first episode of Strictly. Nicky said it felt really strange standing there being criticised like that, especially as he really thinks it was more of a "swoosh" than a "lift". Karen says she agrees, whilst Erin's face says
"bitch, I'll show you a swoosh". Tess asks Karen if she's going to be the female Brenda, and Karen replies "whatever it takes to win!". Oh Karen, how naive you are. Artem and Aliona spent the last two series constantly taking a hatchet to the rules and fighting with various judges, and it…didn't help them…win the…oh. Scores are in
17. Looks like Len returned that favour to Darcey.
Michael Vaughan & Natalie Lowe dancing the waltz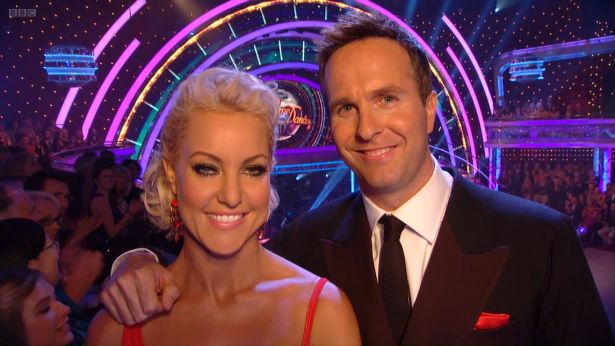 Between the two of them, those jawlines normal out to about average don't they? Bruce says that Natalie came up to him and said "OIM SEW EXCOITED BROOS! OI GIT TUH SPIND THIH NIXT THROY MONTHS IN THIH CRICKITISH ARMS!". Bruce replied "alright then, but don't get drunk". Natalie Lowe joke face?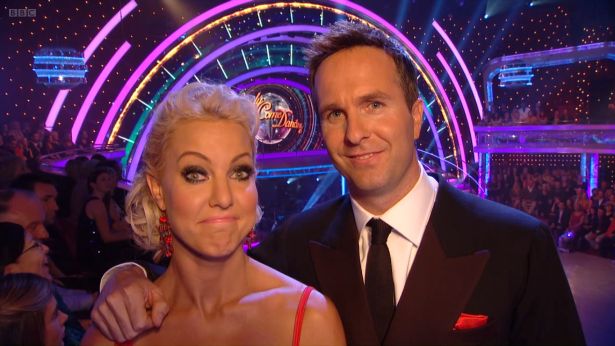 Amen. The audience also don't seem very amused, and then give a sympathy laugh, to which Bruce replies "no, no, no. It started then it went. I'm not begging, not tonight". Poor Wilnelia.
VT time now, and Tess tells us that Michael is the most victorious cricket captain that England has ever seen. Look! Look at him celebrate all his victories!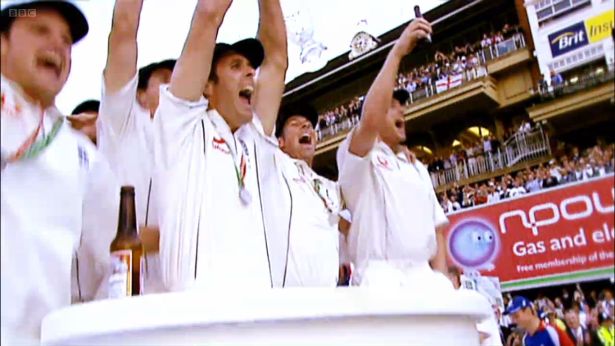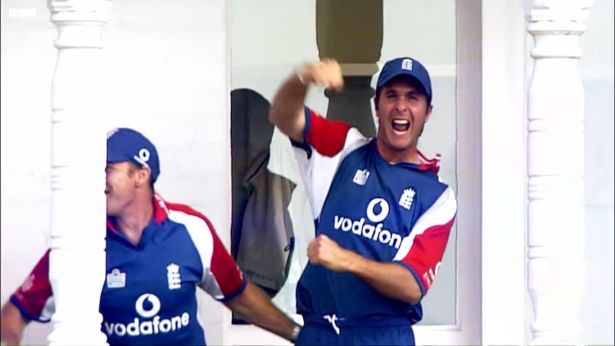 Sadly this culminated in that one massive victory against Australia, after which he tried to recreate the iconic Dirty Dancing lift with Freddie Flintoff.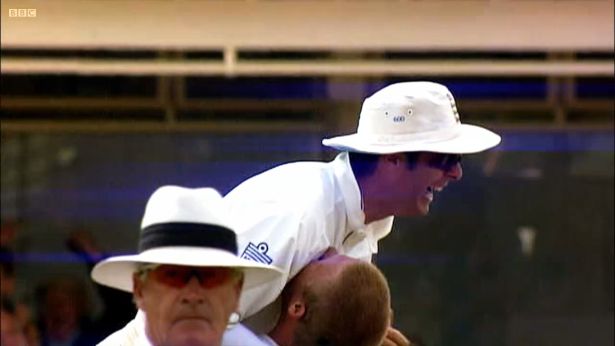 The resulting injuries meant neither of them ever played cricket again. *sad face* Tess asks if Michael can be Strictly's "Man Of The Match". No Tess, no he can't.
Not on this evidence anyway. The soundtrack even fires up "I Can't Dance" by Genesis. And let's face it, nobody would subject themselves to that without good reason. Michael waxes nostalgic about how his team's Ashes victory in 2005 made everyone in the nation fall in love with cricket. So much so that cricketers won Strictly Come Dancing for the next two series running. ALL BECAUSE OF HIM. NOTHING TO DO WITH THEM.
Fortunately for Michael, he's got Natalie Lowe who gushes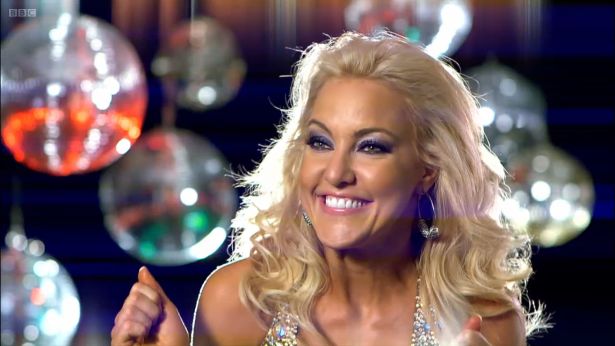 "OIM SEW EXCOYTED TO GIT MOYKULL!". I think Natalie Lowe may be the most positive person in the history of the entire show. I can't wait for her to become bitter, jaded and cynical like everyone else who does more than three series. THIS IS THE YEAR WE BREAK HER! Michael frets that he's not used to being in a team with an AUSTRALIAN, as in the wild, they are his natural predator. Michael, even if it doesn't work out on Strictly, I think this pairing
could well win Eurovision 2013. Imagine Natalie Lowe singing "Euphoria". Amazing (/AMOYZING)
In training now and
Natalie teaches Michael to dance with a broomstick. Much like how she spent last series. In fact, Natalie appears to be getting all the props out, in order to improve Michael's posture. SPOILERS :
it doesn't work. I'm guessing she bought a job lot whilst NOTORIOUS PROP LOVER Evil moira Ross was still in charge, and now she figures she might as well get her money's worth. Natalie tells us that she is constantly moulding Michael's posture every second of their training time together, making minor adjustments to ensure perfection. Sadly, I hear none of this because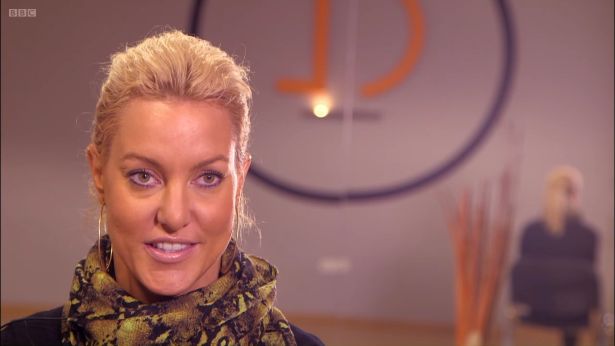 OMG THE FIERCE SCARVES ARE BACK! (*hugs self*)
We close with Michael panicking about his potential scores, and pondering if anybody on Strictly ever got scored zero.
Neva 4get.
TO THE DANCEFLOOR!
DRAMATIC SNOWGLOBE! I love it. They're dancing to "If You Don't Know Me By Now" by The Simply Reds. Sadly for Michael, he is probably the furthest thing from a natural performer we'll see all evening. It all starts off a bit Donobot hair-sniffing, and it goes downhill from there. Nervous sweats, counting out loud, tongue sticking out, the most pained of pained smiles
…he clearly isn't a stage-school RINGAH, let's put it that way. The dancing on the other hand is a little awkward, but it has quite a nice sweep to it, and seems to cover quite a lot of floor compared to some other couples. It doesn't bear much relation to the music sometimes, but it's nice. Not the best, but by early-mid-boot Dad Dancing standards, not awful. He gives himself a very solid dad-dancing Tiger Tim fist-pump when he finishes as well.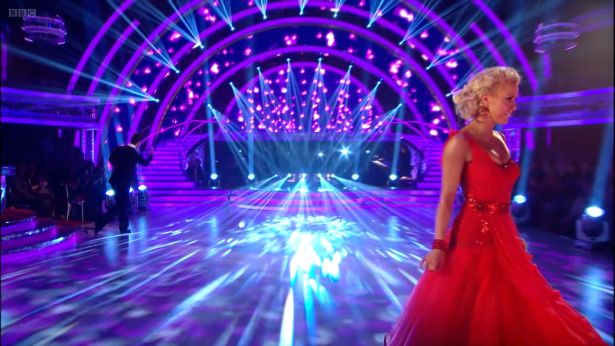 Huzzah!
From the Tessanine, Louis
sneers "these foolish cricketing mortals have nothing on us Olympian GODS. GIVE 'EM HELL PENDLEBITCH!". Once over at the judges, Natalie squawks "WHERE DID THAT COME FROM?!". In a positive way. I can only feverishly speculate on how bad that was in rehearsal, and by extension, just how much of a car-crash their Latin is going to be next week. Michael on the other hand grumbles "I've got a right sweat on".
Craig starts for the judges, criticising Michael's timing and saying that with a better posture and more performance it would have resembled a waltz.
Meow.
Darcey follows, saying that Michael was fine at the beginning, but as soon as he got into hold she felt worried, and all his strain showed on his face. She does have advice for him though – learn from what he did best as a cricketer. BOWLING!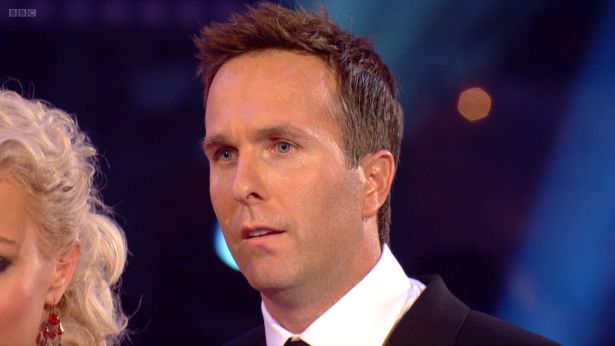 (Oh Darcey…). She tells him, just as he used his whole body to bowl the ball, he should use his whole body to dance. What a shame Tuffers didn't make the end of Series 7. Darcey could have told him to use the best aspects of his cricketing in his dancing as well – getting high and falling asleep.
Len's follows up by telling Michael that this isn't cricket, you know. You don't just stroll out from the pavillion, walking along calmly until you take up guard. GET ON WITH IT, STOP FAFFING ABAHT, AND STOP MINCING AROUND THE TOP OF THE STAIRS. Personally I think cricket could only be improved by Graham Onions and Stuart Broad performing whirling homoerotic snowglobe psychodrama on the pavillion steps, but that's just me. Other than this, it was a bit stiff, but otherwise good.
Bruno closes by telling that it had a good start, but Michael's butt stuck out "like a hanging basket" and his face looked like Shane Warne after his "make over".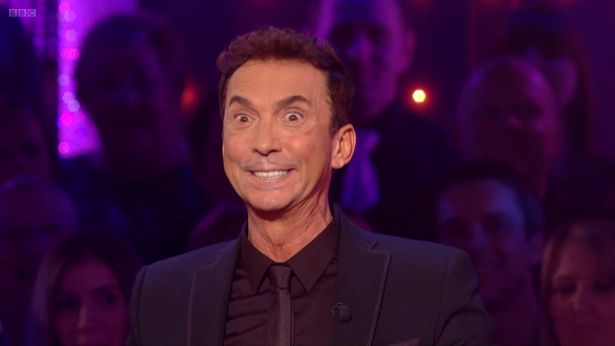 Who would have thought Bruno would be the one to make the only decent cricket joke of the night(/series)? Not me, that's for sure.
Up to the Tessanine they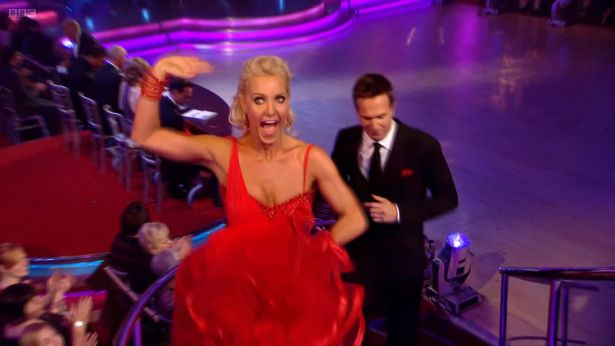 Natalie, where Natalie immediately
starts gushing, hand on heart, about how INCREDIBLE Michael was, and thank you SO much for trying your hardest out their Michael, and being the best you you can be, and it's so INSPIRING to her as a dance-teacher to…etc etc. Michael completely ignores this, and starts blithering about some bar bet he had with "Beefy" and "Shaneo" up in the bar in Scotland. They bet he'd fall over in his first dance, but he didn't! They owe him a tenner, so PAY UP SHANE, I KNOW YOU'RE WATCHING! Not after what Bruno said he isn't. Poor Liz Hurley. That's going to be some angry sex tonight. Tess then demands that she be allowed to "do a bum check".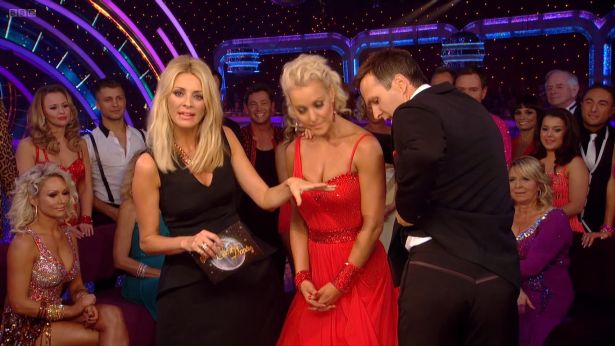 I'm guessing this is the Tess Daly equivalent of "hi, I'm the wallet inspector". Michael says that before in his life, all the dancefloors he's been on have been sticky, so he wasn't used to the smooth sproing of the Strictly floor. And it's all thanks to Natalie. Quite right. She'd never accept a sticky bottom. Scores are in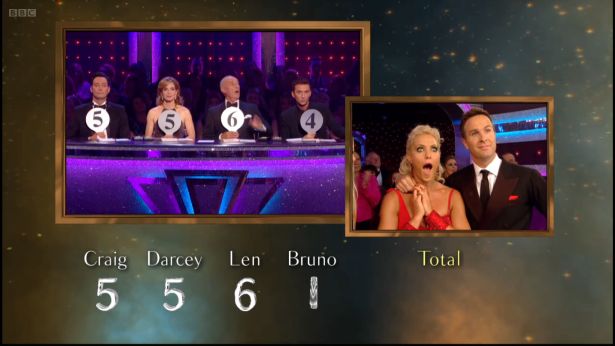 20.
OK, normally I don't recap the bits between the scores and the next couple, because these recaps are long enough as it is BUT. Kristina pulls a face at this low-scoring from Bruno (as though he isn't the "theatrical performance" judge and that wasn't the worst performance possible) as she always does every time the judges do anything to anybody, and Jerry Hall's
"oooh, you mad huh?" face in response is EPICMAZING.
TEAM BRENDLEDRAMA dancing the cha cha
Bruce grumbles to the judges that they should take some of his pills and cheer up. The pink ones. DEFINITELY NOT THE LITTLE BLUE ONES. Although to be fair, Len just watched a SPORTSMAN dance, so he shouldn't need any help. Anyway, speaking of cheering up, HERE'S VICTORIA PENDLETON. Bruce gives them a "very popular lady" in introduction, so she's winning then. He also says "what a wonderful thing she did for us all". Yes, how selfless her relentless pursuit for personal glory was…
Anyway, Bruce makes an Andrew Mitchell joke, because I'm sure he's in such a strong position with regards to not yelling obscenties at low-level BBC employees/Tess/a cloud, and we move on to her VT. Which is soundtracked by "All These Things That I've Done" by The Killers. The upshot is I'm now singing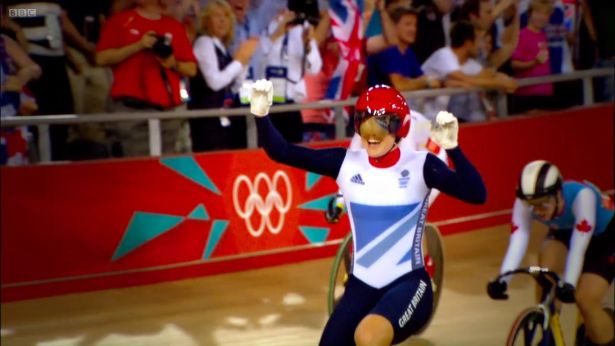 "I've got cycles but I'm not a psycho" constantly. SHE'S REALLY NOT! (*cries*) Victoria says it was amazing to perform at a home Olympics – everyone loved her, she won lots and she got her FAHCKIN MEDUHLS. Victoria covers the key-points of her cycling career (took up cycling at 9 to impress her dad, got scouted to join the GB team at 16, started doing it full time after University, won LOADS OF FAHCKIN MEDULS) missing most of the points where she cried about everything.
Mostly. Victoria tells us she's retired from cycling now, in order to "move on to new challenges". Speaking of which…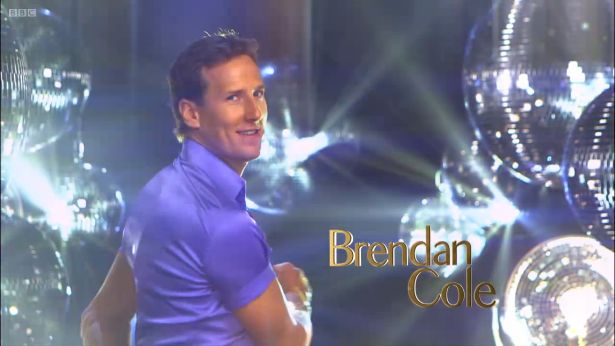 HERE'S BRENDA! He says that only four weeks ago he was watching Victoria cross the finish-line with a tear in his eye (I'm so sure that's true…), and now here he is partnering her on Strictly Come Dancing. He feels like the luckiest man in Britain. I haven't seen him this gushy since Kelly Brook, although that may have been for…more below the waist reasons. Or, alternatively, above the waist reasons on her part.
Training now, and Victoria mewls that she's having real problems remembering the routine (DUN DUN DURRRRRRRRRRRN).
Don't worry Vicky, I'm sure Brenda will make it easier for you, because that's definitely a thing he does. Victoria wanders vaguely around the training room saying "I'm really crap aren't I, I'm being really crap today, sorry Brenda, I'm really crap" and then tells us all that when you've been the best in the world at something, it really sucks to move into a field where you're worse than that chubby woman who used to present This Morning. Brendan jokes, to cheer her up, that the editors will probably insert a montage of "crap"s into their VT.
Ah from "going fetal" to "going fecal".
Brendan says that he hates that everyone expects sportspeople on this show to be good, because there's such a weight of expectation on them and it's NOT FAIR. This so mirrors what he said in Series 6, when he was partnered with a model and up against Austin Healey by the way. NO NEED TO CHECK THE TAPES, IT TOTALLY IS. The VT ends with Victoria rolling around on the floor crying
"DON'T MAKE ME DO IT BRENDAN, DON'T MAKE ME DO IT!". Just a typical night out for Our Brenda, in his bachelor days…
A TRAINWRECK APPROACHES!
It never ends well when the woman wears the trousers does it? If this show had aired in the 70s, feminism would never have happened. "GIRLS IN PANTS! JUST CAN'T DANCE! BURN YOUR BRA? NO CHA CHA!". They're the extra flattering kind as well, that slit at the side,
so you look like you've got your heel caught in them and torn them to shreds. They're dancing to "Spinning Around", presumably as an aide-memoire, as she spins around every time the lyrics demand it. Other than that?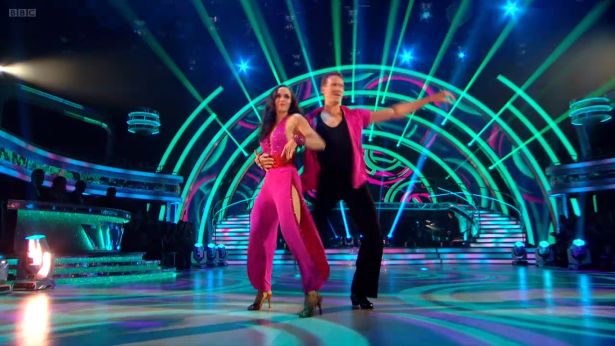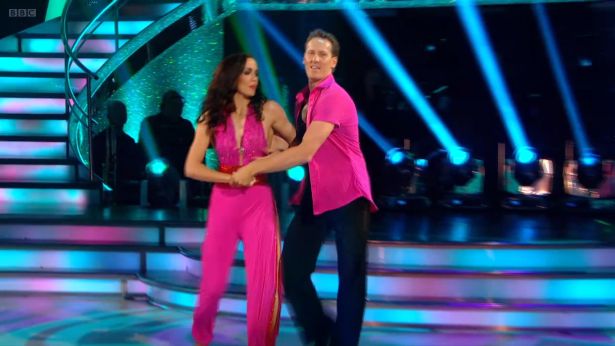 Not a clue. I felt like I've seen Brendan talk an errant partner through a routine with an ice death-grasp on their wrist enough times in this life, but apparently not, because I am LAUGHING IN HORROR just as I did with Fiona/Jo. My favourite part is when she decides to just randomly sassily POINT, because it's a cha-cha and that's all a cha cha is. I would so do that as well.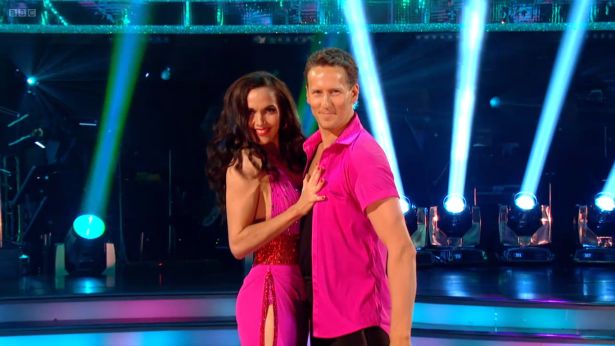 To be fair, she does hold the end-pose for an admirably long time for collapsing into tears, wailing "I'M SO SORRY!". Now that's an Olympian's spirit for you. Once she's over at Bruce, she tells him not to worry, because the first one is over. Sort of. Some of it anyway. I think there's a small possibility the routine could still be going on out there somewhere, like the faint afterglow of dancing with glowsticks.
The first words out of Darcey's mouth? "Very impressive".
I know she's trying to be positive but JESUS CHRIST. She tells Brendan that there was a lot of dance content in there (yes, and he was doing it all) and she felt sorry for Victoria because clearly she couldn't handle it. (*empathyface*) Victoria is clearly barely holding it together at this point and also staring right down the camera
TRAINWRECKGODDESS. Her to score 40/40 next week please, and then fist-pump the studio down. Darcey suggests that Victoria wear a lower heel next week, so she looks less like a hooker, yah? Yeah, because that will help her remember the routine. I mean I know she wasn't the most stable out there (in more ways than one) but baby steps, people, please. Len then tells Victoria that that must have been a bit like the first time she rode a bicycle.
And caused a multiple-car pile-up, killing 7? Painful memories there. Oh, no, apparently it was a bit wobbly but she got through it ok in the end. He tells her that she's got great potential. Yeah, potential for more PENDLEDRAMA! Bruno follows by being the only person to face reality here, by saying "bless you, you know you messed it up so much". It's like when Alesha cut through the mincing hush-hush crap following Chelsee's tango by bellowing "don't worry love, nobody could see your nipples". He then gives a rousing speech telling her to GET BACK ON HER BIKE and such. He tells her that she's a really exciting package for this show, in that she's a nut.
Brenda then turns to Bruce and stage-whispers "can we run off before Craig talks?" and then Bruce replies "no, Craig's not talking, he's not doing this bit, we're running well over time". (Bruce Forsythe Real-Talk <3) They then weep off up to the Tessanine. Yeah, that's who I'd want to speak to in a psychic crisis. Tess Daly.
Fortunately Tess doesn't give the most patronising "aww bless" poo-face in response to Victoria's screeching meltdown (Seriously, she's actually keening "h'nnnnnnnnnnng" at this point. She sounds like Yoshi).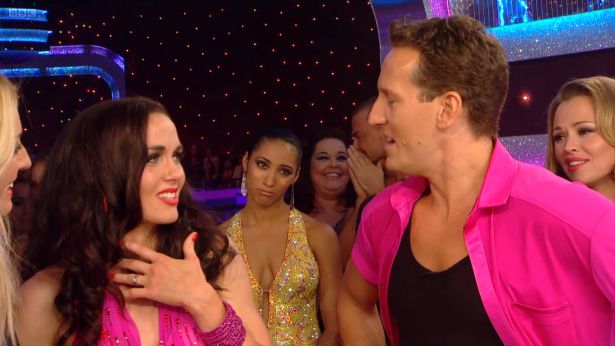 Well done Karen. Also well done to Lisa and Robin, pissing themselves laughing at the back. Tess tells Victoria that she's sure Brendan's not angry, and the studio audience LOVED IT, DIDN'T YOU GUYS? Victoria then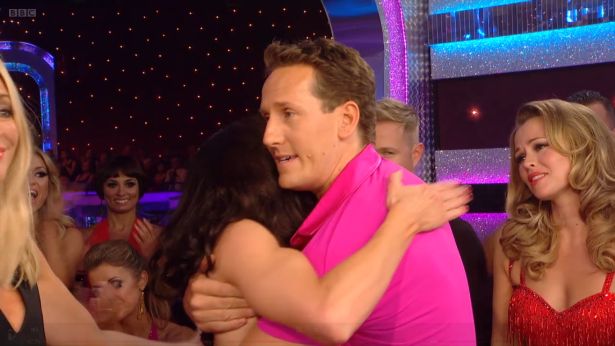 loses it utterly. Whoops. Scores are in
16. Don't worry Victoria. Bloody Lulu forgot all her first routine, and then she went on to…oh.
Colin Salmon & Kristina Rihanoff dancing the cha cha
No, he's not stood on a ladder, that's the height difference. WELL DONE CASTING. Apparently Bruce was asking Colin earlier about the roll that he had in the James Bond films. It was chicken, stuffing, cranberry and bacon. All the cast thought it was delicious, and then he got promoted to catering manager. Heady days.
(In reality, Bruce makes a really convoluted alphabet-spies joke. I don't really watch enough James Bond films to get it fully. Colin joke-face?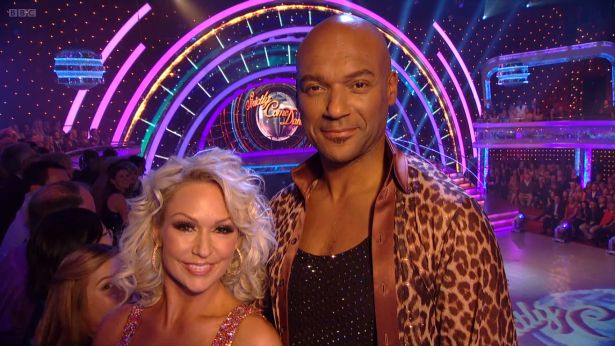 Right on.)
In his VT, Colin reminds us that he has done the catering for many big tv dramas, getting his break in the 90s on Prime Suspect.
Some people are really picky about their olives I guess. He feels his best work was done in the James Bond films, where he was so honoured to hand out soup and sandwiches to Dame Judi Dench, Halle Berry, and Pierce Brosnan. This one time, Dame Judi rang him at 3am for a chip butty, and she was so impressed by his complex mingling of salt & vinegar and prawn cocktail flavours that she declared him the Heston Blumenthal of the snack-food world, and wangled him a cameo role as "Charles Robinson – Chief Of Stuff". His one line ("NOOOOOOOOOOOOOOOOOOO! MY FAAAAAAAAACE!" was so memorable he was nominated for a BAFTA. Of course all this excites Kristina very much.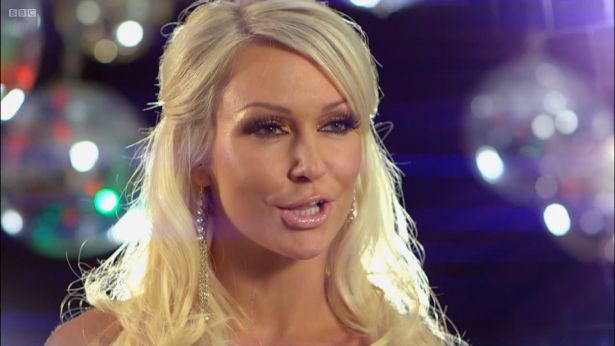 SHE HAS ALWAYS WANTED TO BE BOND GIRL! MAYBE COLIN CAN GET ME PART! I PLAY NUCLEAR BIOLOGIST KATARINA VAN PANTSOV AND JAMES BOND MAKE FUNNY JOKE ABOUT HOW HE ONLY HAFF PANTS OFF ONCE A YEAR! IT'S A SEX JOKE!
Colin tells us that he wanted to do Strictly because he's always loved dancing. Well, there's your first mistake. He says he's really excited about working with Kristina, because he hears she's very "intense". Heh, yeah, that's one word for it alright.
Training mostly focuses around how Colin is a legit giant, possibly with some sort of thyroid condition, and it's making it difficult for Kristina to dance with him, because when they stretch out their cha-cha walks together at fall arms length, she has to be in a different room because it's the only way they'll fit. It's like dancing with Mr Tickle. Which sounds quite a bit like what Bruce will probably tell Dani at some dark moment in the series that will later be recounted to a policeman.
ANYWAY, this
is a very real situation and needs to be addressed, before we find ourself in a Ballroom Week and Kristina is dancing around standing on his toes like a 7 year old dancing with her daddy at a bar mitzvah. You know, one of those black Russian Jewish bar mitzvahs they have.
TO THE CRYSTAL DOME!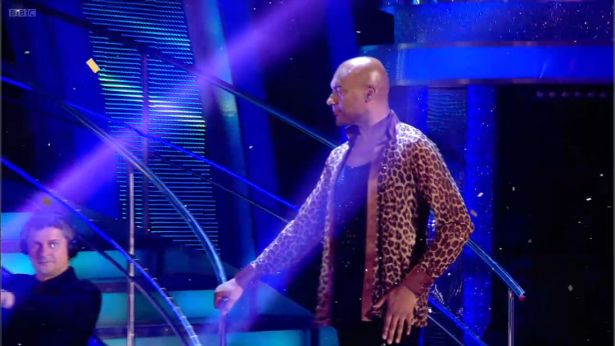 Seriously.
On the other hand, you know in cop dramas, when an elegant aging black drag queen is somehow a witness (usually in the series token "let's investigate a gay-bashing" episode) and the detectives visit him at home, and he's not in drag, but he still turns up to the front door looking FABULOUS? That. Like, "darling, I KNOW there's been a murder but I'm simply blitzed from all the ketamine I took last night and I MUST lie down. You are a cutie though. Oh go on, you can have ONE question".
Where was I? Oh yes, the cha cha. It's being cha'd to "I Got You (I Feel Good)" by James Brown. It's VERY mincey, but I love that Colin is embracing it and just going with it, without looking awkward or pulling "hello ducky!" faces to go with it. And it's a pretty jazzy mince. It's fun, which I guess is all you can ask, given that it the cha-cha TOWIE of ballroom dances. Best cha-cha of the night, which is even closer to saying nothing than I normally get with this blog.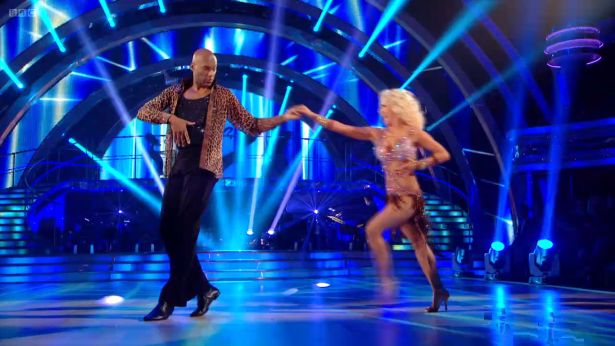 "Down the station darling? Oh if I must, but at least let me put on my wig and talc first. You're awfully butch for a lady, even a police-lady. But I like it."
"Oh no, wait, turns out I was the murderer all along. But a pretty FABULOUS one, don't you think?"
(Seriously Kristina, enough with the chorechokeraphy already)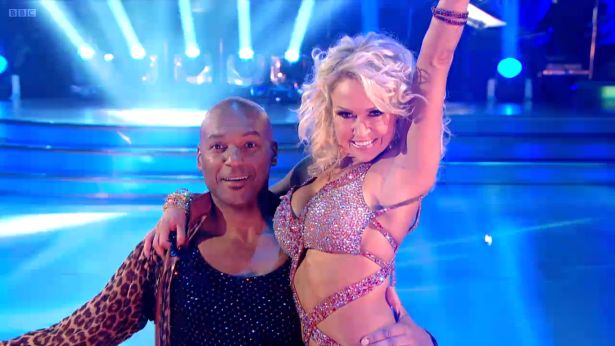 TAH DAH! (Dick Wolf)
Over to the judges they go, to find out how many gold tokens they collected, after deductions. Up in the Tessanine Karen looks a LOT more excited after she realises the camera is on her. She'll learn. By which I mean she'll look constantly disinterested (hi Erin!). It gets a standing ovation, probably because the audience think this is the best it's going to get, so if every other audience on this show gets to give a standing ovation these days, why not them?
(I think that's a Cranberries album title).
Colin then clicks his fingers, and order a dry martini from a sexy lady standing at the side.
I know Bruce. This show used to be so different. Fortunately the same
SEXY LADY comes out with a mug of cocoa for him. The sexy man in hotpants serving up a silver tray of cocaine for Bruno is, mercifully for compliance, just out of shot. Bruce asks Len if he fancies a pint of bitter and then Len mericfully gets us all back on track (what was that about running long Bruce?) by just pointing at Colin and shouting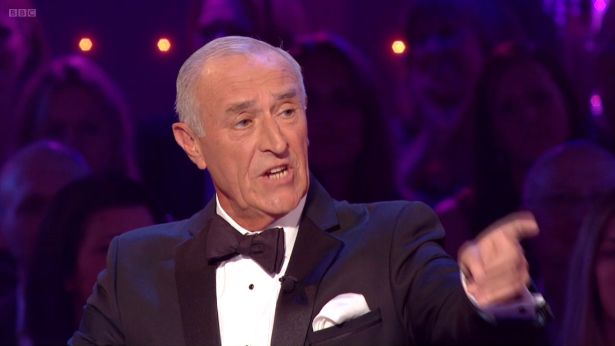 "WOOP, WOOP, WOOP, OPPA GANGNAM STYLE!". Oh ok, he doesn't, he says "BEST CHA CHA OF THE NIGHT!". This show is more fun my way.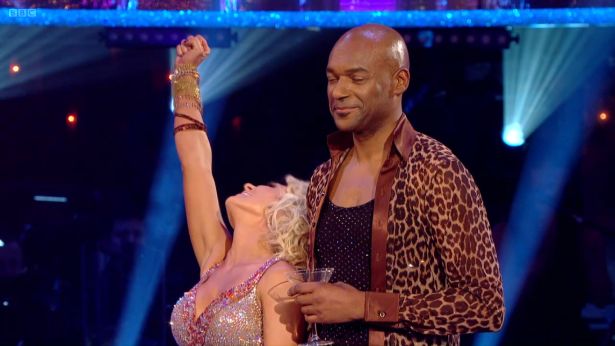 Martini glass in hand, wearing a drag queen's dressing gown and giving no fucks is the best way to receive criticism on this show isn't it? Also LOL at "Kristina + FIST PUNCHED IN AIR = exact height of Colin". Craig follows, saying that there were moments in the routine that he could have done without. Although he doesn't say which ones. Nice and helpful there Craig.
Kristina is SHOCKED, Bruce jokes that there are some judges that we could do without, and asks Craig if he has any more to say. He doesn't. I think that may be the worst single example of judging on this show that didn't involve Jennifer Grey ever Craig, well done.
That's it because we're running out of time, so Colin deposits his fake martinis at Len's door, and hi'es off up to the Tessanine. Once up there, she asks Colin how it felt to do the best cha-cha of the night (number of other completed cha chas performed tonight : one) and to get a standing ovation, and Colin replies that he simply can't say, because it was a dream come true.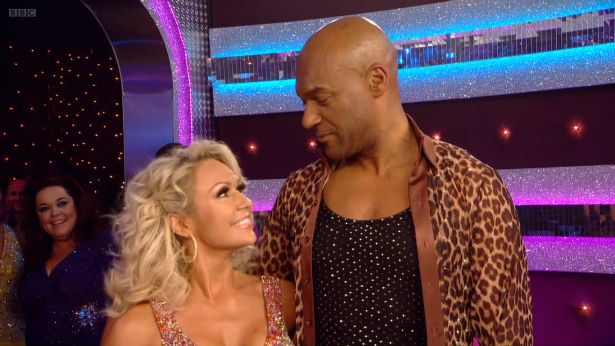 Was it a cheese dream?
Tess then asks Kristina if she was in "double-oh-heaven" dancing with Colin, and Kristina replies that she…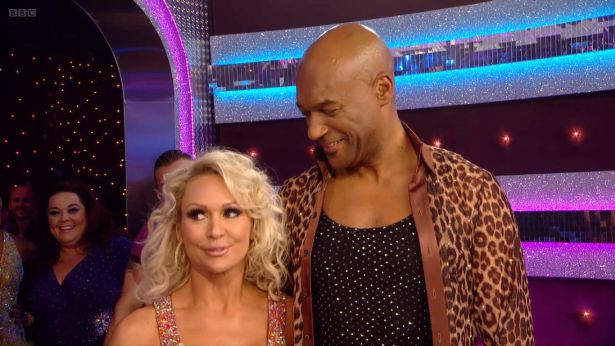 thinks so. Like that dance could ever have happened in a Bond film. Even the Roger Moore ones didn't get that queer. Scores are in
23. Not bad, but not enough for the Adventure Sports Holiday in Norfolk.
Denise van Ringer & James Jordan dancing the waltz
Bruce tells us that when Denise was younger, she starred in "Les Miserables". Which apparently translates to "The Miserable Ones". We've had this show here for years. It's called EASTENDERS! Artem's SOUFUL Bruce Joke Face.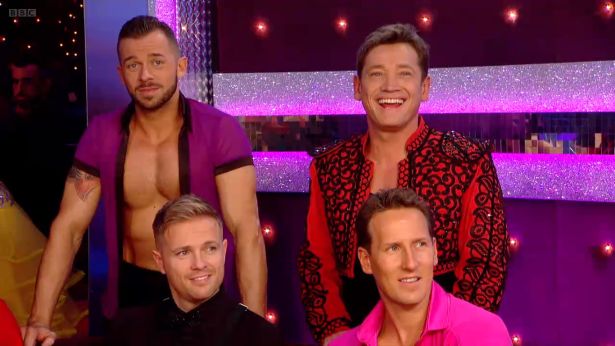 Beautiful. I'd photoshop in a tumbleweed if I hadn't spent far too long already working on that Natasha Scribbles one.
VT time, and Tess tells us that in 1997, we were introduced to Denise Van Outen, the original Essex Girl. Yes Tess, she was the first one.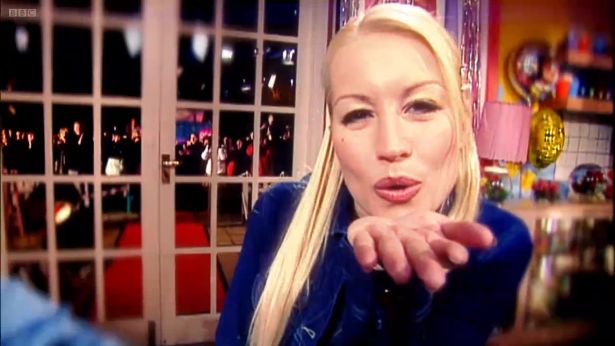 I feel so old. I can't imagine watching breakfast tv that busy-looking these days. Charlie Stayt alone is enough to make me want to crawl back under my duvet. Denise gurgles that she's very proud of her Essex roots, then clarifies that she doesn't mean the roots on her head LOL, because she's had them done LOL.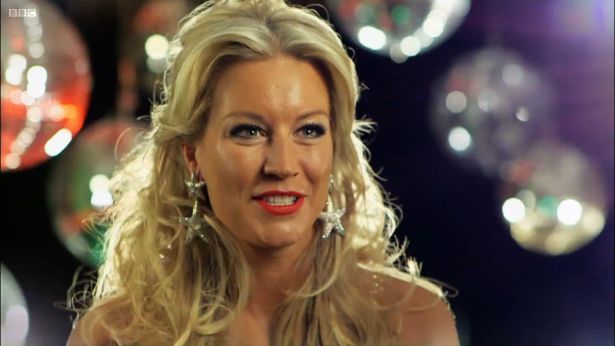 Jeez, that is proper Essex Mum hair isn't it? After she blew her budget on that do, I'm guessing she had to root around in the Xmas Tree box for those ear-rings. She tells us she's REALLY EXCITED to be dancing on Strictly.
LOOK HOW EXCITED! (make it stop…)
Denise then tells us that she's ready for the judges criticisms because she appeared in numerous WEST END SHOWS
(this one I saw myself, although her role was being played by ST JILL OF HALFPENNY when I went. Juss sayin' I'm sure Denise would say she mostly just cut hair) where the critics ripped it out of her. Yeah, I hope Denise has thought this gambit through, because if this show DOESN'T boost her career, and she has to trudge back to the PIT OF DESPAIR that is the West End, repeatedly saying "I can't dance, I never danced, and when I did I got shit reviews" probably won't help her there any. Also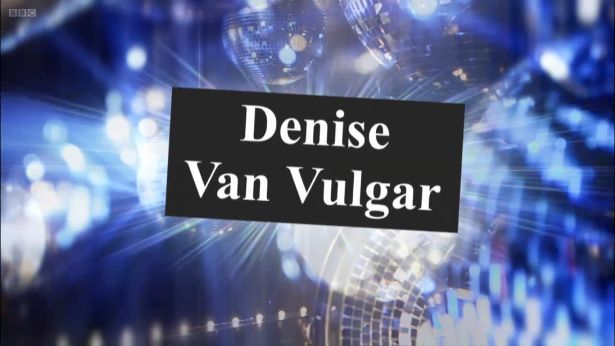 did Arlene write that one? She then waffles on that EVERYONE thinks she's professionally trained but she's NOT she just went to THEATRE SCHOOL FIFTY YEARS AGO and it starts to get a bit painful so let's just cut to James.
He says that he finds Denise HILARIOUS. Given that James also finds himself hilarious, I'm not taking this as much of a personal recommendation for me myself, although you can do what you like with it. They both cackle that they've got a really naughty streak so WATCH OUT CRAIG.
Training now and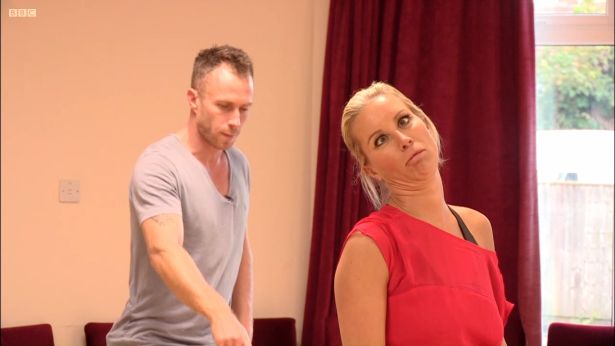 yeah, it's that face, mostly. Such larks. James tries to get Denise to concentrate and sort her posture and be a classy elgant lady and stuff, but Denise is JUST TOO ESSEX FOR HIM TO HANDLE.
To the dancefloor, where James and Denise will be performing their waltz to "With You I'm Born Again (Like A Zombie Or Something")
Oooh, ahh, look at the fog, and all of the footwork it will be covering up. Oh and James, if you're going to lecture Denise on the need to be a proper lady,
try not to start your elegant waltz so openly staring at her jugs. Denise as a waltzer is quite elegant, and fluid and light but also she looks a bit
bored? You can kind of tell she'd rather be mashing it up round a handbag to The Prodigy. In the hankie code, "yellow" means she's looking for a Golden Shower incidentally. Maybe she's hoping Robin will offer one over the balcony, like Frankie Goes To Hollywood. Certainly it would liven things up a bit. James has made his choreography very romantic, in a slightly 80s way, and it's all very nice and tasteful.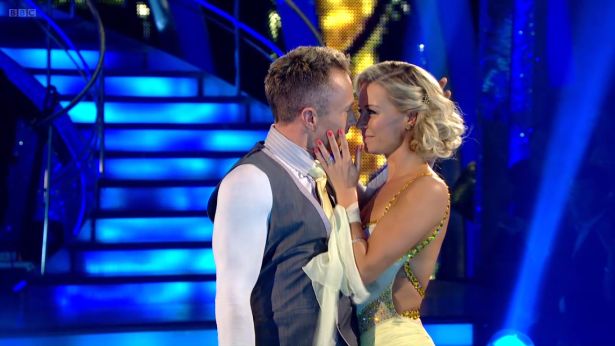 WANTON FACE TOUCHING ACTION! PHWOAR!
It gets a standing ovation, to which Bruce replies "oh look, another one". My sentiments exactly Bruce. These women here however are
NOT FEELING IT. I want to be friends with that one on the right in particular. For the judges, we start with Bruno, who tells Denise that she is very EXPRESSIVE (he'd know) and that the routine had all the nuance of a blossoming romance. Lovely lines, but she needs to work on her frame and her extensions. Whatever Bruno, they cost £10 at Supercuts. Craig follows by saying that the show has saved the best til last, and Len closes us out merrily by saying that Denise had "style with a smile" but there were precisely no heel leads in the entire dance. And you're kind of supposed to do some.
DENISE TAKES CRITICISM everybody. People boo, a little, and there is some mild hissing, but you can tell they're not that bothered. To be fair, it's been a long show, and the buses will be leaving in a minute.
Up to the Tessanine they bounce, where Tess asks Denise if she feels she's finally made the transition from Essex Ladette to Lady. Tess says she doesn't know now, because apparently she has to work on her heels. James says "oh we didn't say much about those did we?" to indicate that "they" definitely did. To be fair James, I'm not sure Denise could hear you over all the faces she was pulling. Tess tells them both that THEY ARE TROUBLE, YES THEY ARE, SO NAUGHTY and then the scores are in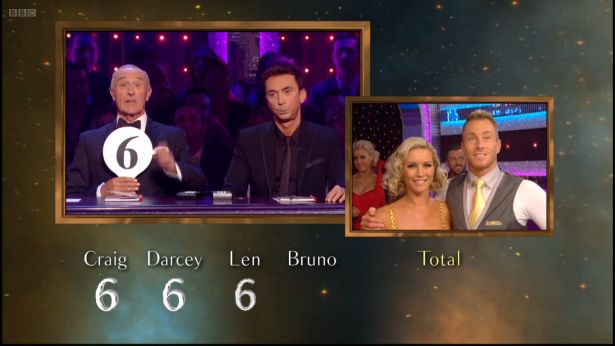 THE NUMBAH OF THE (naughty) BEAST. And Bruno gives them 7, for 25.
Leaderboard?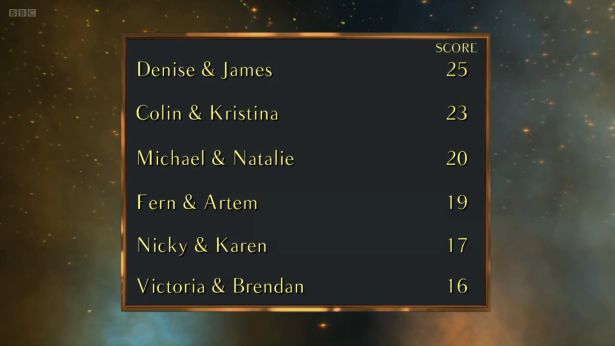 Well I think that's certainly different from what any of us would have expected, yes?